Tamarack, Idaho
Tamarack opened in 2004 and is the newest destination ski resort in the U.S. on our list. It actually fell off when the Wildwood chair was repossessed by a creditor in 2012. After that it no longer met the criteria to be on the list, but new ownership bought and installed a new lift in the summer of 2019, and we felt it deserved to be added back.  This review is based on a single visit having exceptionally good conditions.
The skiing is surprisingly good and it gives nothing away to the other nearby resort of Brundage. Even if the focus of resort development is more on real estate and the village than on the mountain, what they have now is great and should be enough to get those condos sold and get more people visiting.
Stats
Real Vertical 

?

2,800′, Rank: 33

Size

1,100 Acres, Rank: 74

Annual Snowfall 

?

300″ claimed / 275″ actual, Rank: 61

Ski Pods 

?

3, Rank: 91

Distinct Trails 

?

50, Rank: 82

Review Date

February 2020

Number of visits

1
Our Rating

★★★

Resort website

https://tamarackidaho.com/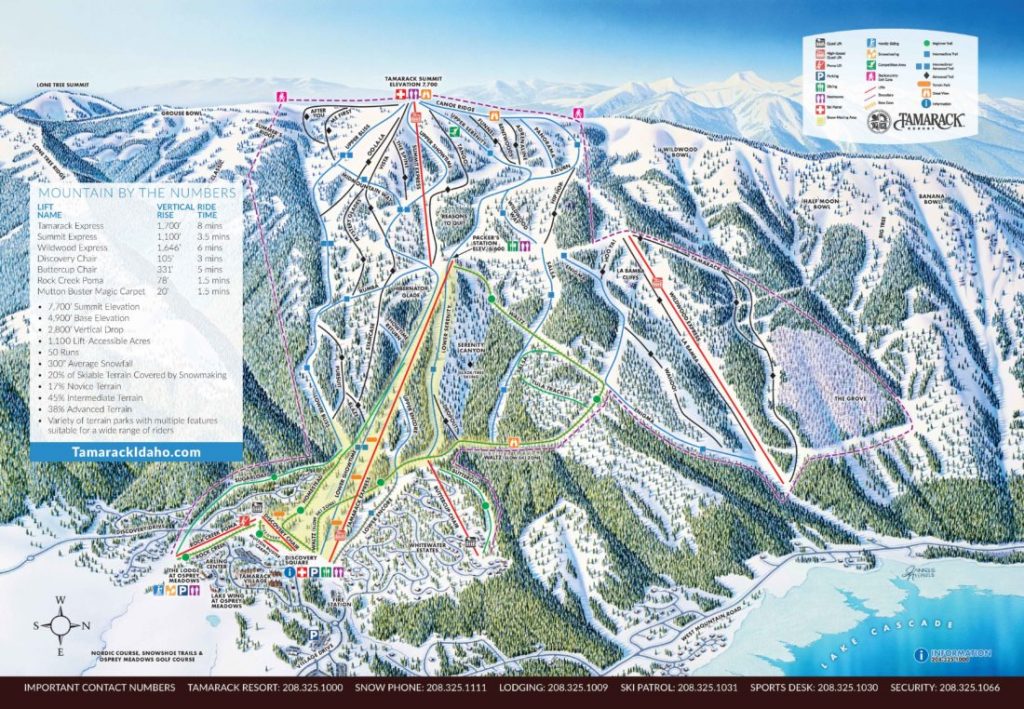 Tamarack Review
Tamarack was part of a 2-resort trip starting with Sun Valley. We flew into Boise and drove to Sun Valley first, where we were (treated?) to some of the worst ice we have ever skied outside of New England or the Cascades. We left early on the last day and toured around Boise a bit before making the 70 mile drive up to Cascade where we stayed.
Tamarack is a work in progress, and they definitely went through some tough times between 2008 and 2019. Now the investment is back and people are buying expensive slopeside condos again, which bodes well for the future.
The base area
The base area facilities weren't quite ready when we skied there in February 2020. This was evidenced by the 3 temporary yurt tent structures that make up the base area buildings. Next to it was a beehive of activity as they were still working on building out the village. Apparently the first store had just opened in the village, but we couldn't walk through there with all the construction going on. At the top of the Tamarack express, there is a beautiful but closed timber frame mid-mountain lodge. Instead, you get another small yurt warming house.
Our visit
The day we skied Tamarack it was snowing and the 5″ that accumulated by the end of the day. That made for some glorious conditions. It was probably our most enjoyable day of skiing in all of the 19/20 season. The skiing was fantastic! Long, winding, wide runs flow down the mountain and always provide a few surprises along the way. It was snowing lightly all day, but you could see that the views of Lake Cascade would be great from almost every run on a clear day.
We couldn't believe how much effort they put into grooming to serve the probably less than 100 people skiing along with us, on a weekday. Not only are lines nonexistent, but also with so few people there we had the runs mostly to ourselves as well. I'm absolutely sure this is going to change as people hear about it, but we will always remember and cherish that experience.
The Lifts
For non-beginners, Tamarack is basically a 3-lift resort. They have one beginner chair that runs at the base, and 2 real-estate access lifts that probably only run on a very limited basis if at all.
Tamarack
Tamarack express has a great collection of intermediate and advanced runs. We found "Staircase" to be quite challenging with some interesting twists and turns and big rock features. We spent a lot of time on that chair and made sure to ski just about every run.
Summit
Above Tamarack is the Summit Express (aptly named). The terrain it serves is more of the same but with more snow and better tree skiing. You can link runs like Bliss from the top to the very bottom and enjoy all 2,800 vertical. Bliss was our favorite run at Tamarack, with lots of rolling drop offs and twists and turns.
Wildwood
Wildwood had just reopened about a month before we skied it. Being new, it was the smoothest high-speed quad we have ever ridden. The terrain on Wildwood is a little different, and includes a really interesting Tamarack forest, which I believe is unique to this resort. These are conifers that lose their needles in the winter, and when there are a lot of them together it makes for great tree skiing because the snow all reaches the ground instead of getting hung up in the trees and melting. The groomed Tamarack run was our favorite on that lift.
Food and on-mountain facilities
You have 2 choices at the base on a weekday when we were there: the cafeteria tent or the bar tent (yes, a tent). We chose the cafeteria and it was predictably lacking, but I think in a couple of years there are going to be lots of better choices available. The people we spoke to in the real estate office said that the yurts are all coming down in summer 2020, which will pave the way for a new base lodge. There was a tiny mid-mountain yurt serving tacos that we didn't go into, but it's clearly just a matter of finishing the interior of that gorgeous mid-mountain lodge before that comes down.
Future plans
In 2021, Tamarack revealed plans to expand an additional 2,100 acres which would make it a large resort.  6 new lifts are planned, including a base to summit gondola.  6 new ski pods would come with it and this would definitely bring the resort into the big time.
The good
Above average snowfall for an Idaho resort
No lines, empty slopes (as of 2020!)
Nicely designed ski terrain and trail layout
Efficient lift network
Considering the number of skiers, grooming is definitely over achieving
Not windy, even on a storm day
Great tree skiing
The bad
Small for a western resort, with only 1,100 acres
Still building out, so dining options are very limited (as of 2020)
Needs more steep terrain
The Bottom Line
Take our advice and go there before people discover this place. Go on a weekday and you will feel like it's your own private mountain. There is nothing else quite like it in North America, and we are definitely going back.