Apex Mountain, British Columbia
Apex Mountain is a relatively unknown smallish resort near Penticton, BC. It's the value option in the Okanagan region mostly visited by locals, but don't let that fool you because Apex is one of our top discoveries of the project.  We only visited once for this review, but we skied most of the mountain under good conditions.
Stats
Real Vertical 

?

2,000′, Rank: 74

Size

1,112 Acres, Rank: 73

Annual Snowfall 

?

240″ claimed / 228″ actual, Rank: 80

Lift Pods

?

4, Rank: 72

Distinct Trails 

?

65, Rank: 67

Review Date

February 2017

Number of visits

1
Our Rating

★★★★

Resort website

https://www.apexresort.com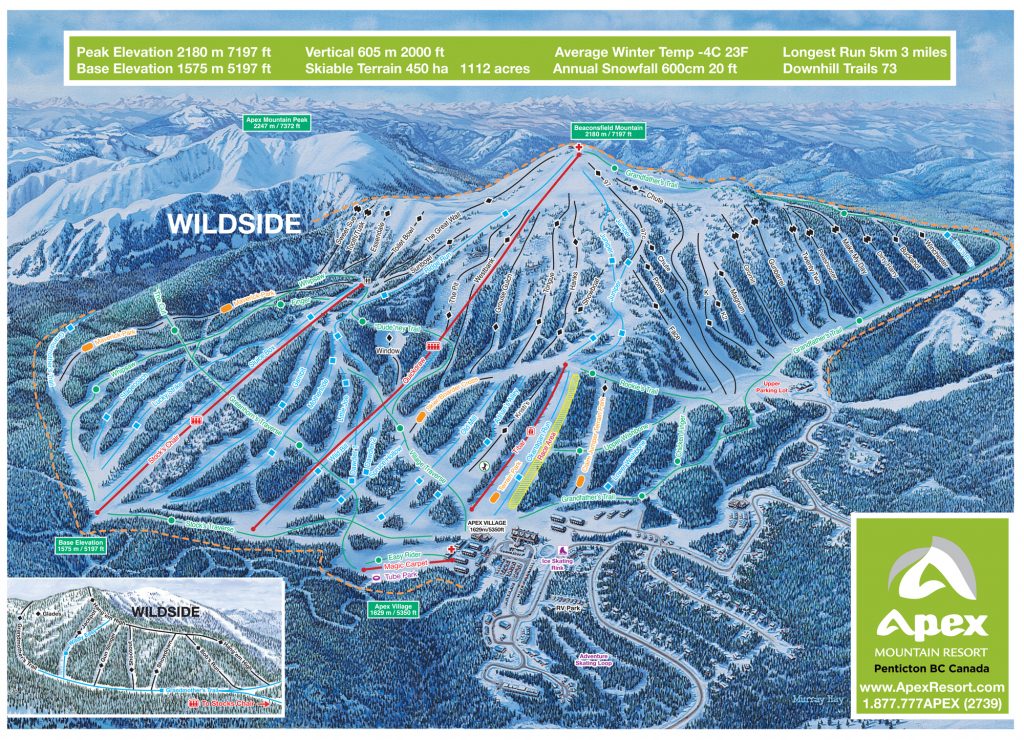 Apex Mountain Review
Apex Mountain was at the very bottom of our list of Western resorts and even dropped off for a few months as the list was refined. I had never heard of it, and the stats are low compared to most other Western resorts. By every metric in the stats above it is rated below the average rank on our list.  It's a good thing we added it back though, because Apex was the best new resort we skied in 2016/17.
Why it deserves to be on our list
The day before we skied it, we drove up from Mt. Hood. It rained hard all day until we got to the Canadian border which is just south of the resort — even at relatively high elevation. Apex was just high enough and just far enough north to escape the rain and in fact there was about 2″ of fresh snow for us. The base is a little higher at Apex than some of the other resorts nearby, and it faces mostly north, so even though snowfall is below average, snow quality is better. Comparing to Big White and Silver Star where we skied after Apex, both of those were icy at the bottom due to rain and sun.
First impression
On the drive up from Penticton in the morning I wondered if we were going the right way because there was nobody else on the road, there were no vacation homes along the way, and only a couple of small signs separated by miles of empty poorly plowed roadway. With some relief we eventually arrived at the village where there were lots of homes and maybe 20 cars in the parking lot.
Friendly Canadians
Every person we encountered at Apex was super friendly. The person in the ticket booth asked us where we were from and when we said "California".  He was thrilled that we had come all that way to ski Apex. The village is tiny but has everything you need including a couple of restaurants and shops. We went to a popular cafe that had fresh pie. We are always on the prowl for these places because A) We love pie, and B) These tend to have better food and a better atmosphere. A lot of people in the cafe seemed to know each other and the shop employees so it was very much like where I grew up skiing in Western New York at the small club ski hills.
The lifts
Apex has only 2 'real' lifts because one is a T-bar (wasn't running) that serves a short hill used for racing and the other is a magic carpet. The main one is a bottom-to-top high speed quad called "Quickdraw". You can ski most of the mountain from that lift and it's a very efficient lift layout. We spent about 75% of our time on that one. After escaping the ice on Mt. Hood we were happy to finally find some soft snow and we spent a lot of time off-piste on the steeper blacks right under the lift line on the face of the mountain. I had to wonder if there was something wrong there because there was nobody else skiing it. No complaints here!
Exactly what we like
Another strength of Apex is the excellent steep groomers. The trail ratings there are spot-on and they groom most of the blues and some of the less steep blacks like Poma and Chute. Unlike other resorts, a run groomed 2 days ago is still very smooth, and we were finding undisturbed snow on groomed runs at the end of the day.
The off-piste
As you continue further west along the main ridge all those runs are ungroomed moguls and trees. The bumps on those were pretty hard so we didn't spend a lot of time in there. We would imagine, on a deeper powder day, that would be the best place to be. Since there is only one lift serving the entire main mountain there are rapidly diminishing returns the farther west you go, but there are lots of interesting runs in that area.
The backside
The backside of the mountain is called "Wildside". This has some nice glades that would be great on a powder day. It faces south though, so when it's warm like when we were there the off-piste is going to be icy. We only did one run in that area, but I can see the potential even though it's a long traverse out of there.
The Old Triple
The other main ski pod is the ancient diesel-powered triple chair called "Stock's". That is some of the most ideal intermediate terrain imaginable. Almost all of it was groomed and in perfect shape. This would be an ideal place for another high-speed quad if they ever need more lift capacity. But the old triple does the job and we skied almost all of those. A great long interesting run is to take Great Wall from the top of Quickdraw and ski all the way down to the bottom of Stock's on Motherload or Gambit. That gets the full 2,000 vertical and exemplifies all the best of Apex.
The good
Uncrowded
Nice variety of terrain
Steep groomers
Plenty of challenge
Nice community resort feeling with friendly staff and guests
The bad
Limited vertical of only 2,000′
Could use more snowfall
The bottom line
This is a vastly underrated resort that everyone who enjoys uncrowded slopes should visit. This place is a perfect example of why we are doing this project and was a real find for us. We would love to make it back there someday.