Lake Louise, Alberta
When we went to Lake Louise, it was the most northerly resorts we had skied at the time, in far western Alberta, Canada. Located inside a national park, it's one of the most beautiful places we ever skied.  This review is based on one visit under decent but early season conditions.
Stats
Real Vertical 

?

3,150′, Rank: 24

Size

4,200 Acres, Rank: 9

Annual Snowfall 

?

179″ claimed / 171″ actual, Rank: 94

Lift Pods

?

10, Rank: 20

Distinct Trails 

?

164, Rank: 10

Review Date

December 2007

Number of visits

1
Our Rating

★★★★

Resort website

https://www.skilouise.com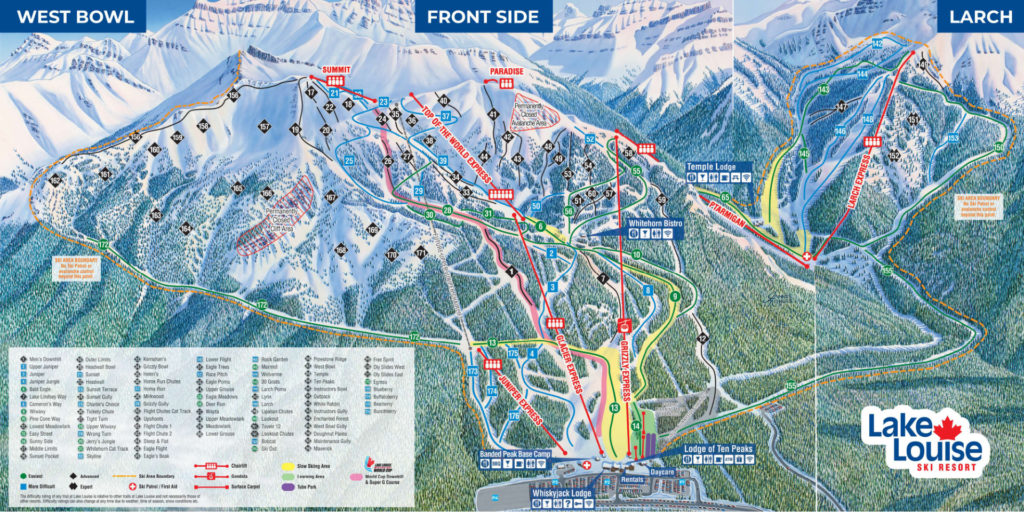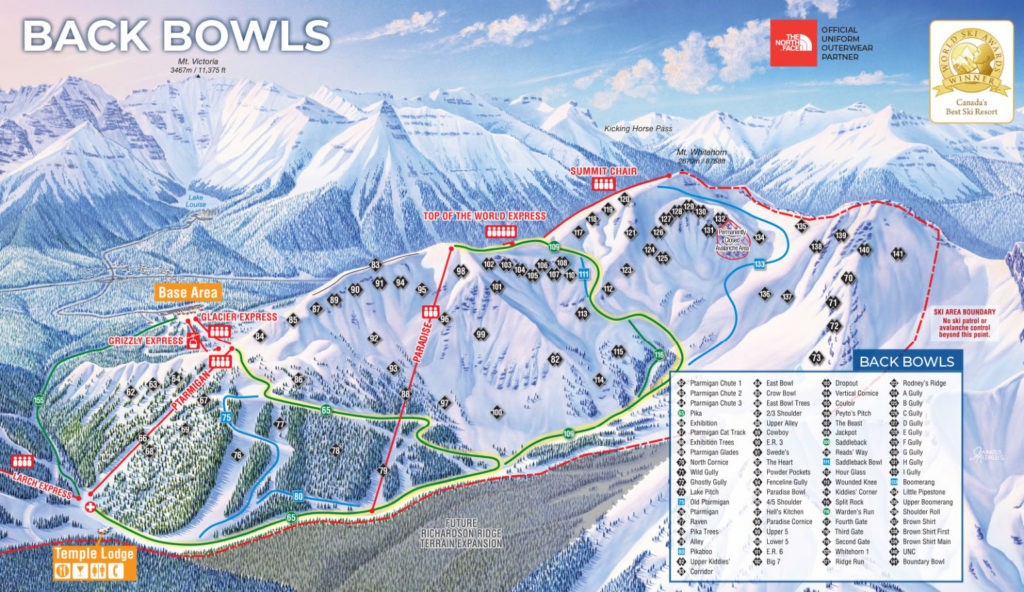 Lake Louise Review
Lake Louise is one of those iconic resorts every serious skier should try to ski at least once. As a place for a ski vacation it's hard to beat. You can stay in nearby Banff and take an easy freeway drive to the resort on empty roads. And then enjoy an uncrowded day in some of the best scenery at any North American resort.
Our visit
We were there just before Christmas 2007 when the Canadian Rockies had received more snow than just about anywhere else in the West.  We skied on the shortest day of the year. It was interesting because it is really far north, and the sun came up just about the time the lifts started, and set when the lifts closed. By the time we got back to our hotel it was dark.
The lifts
The Top of the World 6-pack and Larch quad were our favorite lifts.  The gondola also has some great terrain.  The Paradise Triple was open, but the top of the mountain is very boney and with early-season conditions. There were a lot of rocks so it was a one-run affair.  Later in the year this would be my favorite lift.
Since we visited, as of 2022 two new lifts have been added:  Summit and Juniper.  Summit replaced a platter and is now less than half of the platter's vertical (why ?).  Juniper is a short chair with less than 800′ vertical at the bottom that serves some new intermediate terrain.
What we didn't get to do
Everything was open except for the summit platter, which is now a quad chair.  This brings up the biggest problem with the area which is the lift infrastructure.  That lift serves probably over 1,000 acres of terrain, most of which can only be skied again after taking 3 lifts back to the top.  Although there are 5 high-speed lifts, except for the gondola they all have modest vertical drops.
Food and lodge
The base lodge is an impressive log building with decent food.  There is one other place to take a break which is the Temple lodge on the backside.
Huge Snowmaking system
It is worth mentioning that Lake Louise is the impressive snowmaking system, which covers an almost unbelievable 1,690 acres of terrain. It is the most in Canada.  That is enough terrain to keep most people happy even if NO natural snow fell.  It's also very cold there, which helps to preserve what snow does fall.  So even though the snowfall is about half of what we like to see for a "top" resort, the snow conditions are better than you would imagine.
The good
Views, views, views
Great variety of terrain with lots of steeps
Uncrowded
Lots of snowmaking for reliable conditions
The bad
Lack of natural snowfall
COLD
Lift infrastructure still needs improvement
Would we go back
There is something intangible about Lake Louise that is not reflected in the trail map or mountain stats.  It feels like a winter wonderland when you are skiing there.  It's very hard to get to for us, but if we ever get back to Banff we will definitely ski Lake Louise again.