Powderhorn, Colorado
Powderhorn is a resort that few people outside of Western Colorado have ever heard of, located near Grand Junction. However, to people from Grand Junction it's a vital part of the local community with a loyal following. So even with much larger destination resorts like Telluride, Crested Butte, and Aspen nearby, many locals would rather just ski the uncrowded local hill instead of joining all the tourists at those other resorts.  This review is based on one visit during great conditions.
Stats
Real Vertical 

?

1,650′, Rank: 93

Size

1,200 Acres, Rank: 66

Annual Snowfall 

?

250″ claimed / 225″ actual, Rank: 82

Lift Pods

?

3, Rank: 91

Distinct Trails 

?

42, Rank: 91

Review Date

February 2019

Number of visits

1
Our Rating

★★★

Resort website

http://www.powderhorn.com/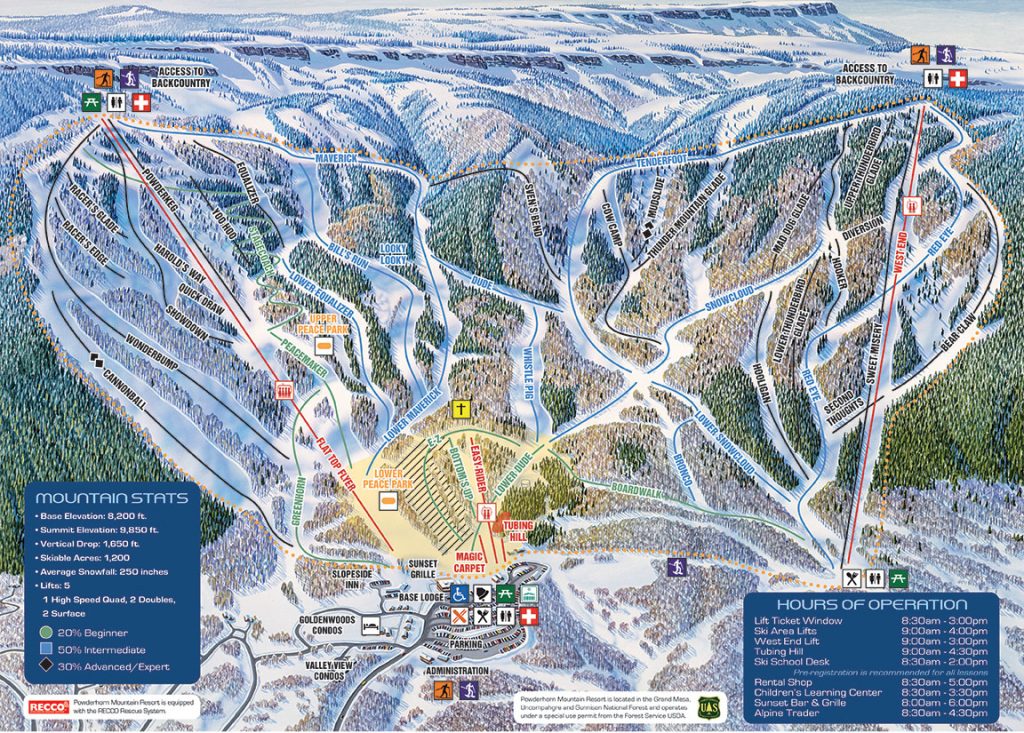 Powderhorn Review
Powderhorn was the first stop on our 2019 Big Trip. We drove to Grand Junction nonstop from South Lake Tahoe…over 750 miles and stayed in a downtown hotel. Downtown Grand Junction was a nice surprise with a walkable main street full of restaurants and nightlife. The ability to spend the night at Grand Junction's modest 4,600′ altitude is a huge benefit for people like us who have trouble sleeping higher up the first couple of nights. This is even lower than Denver's altitude and since it's only 39 miles from there to the resort, it's a unique option in Colorado.
The drive to Powderhorn from Grand Junction is a scenic tour up the Colorado River and then south up the slopes of the Grand Mesa. The base area sits at 8,200 ft. There were only a few cars in the parking lot so it was easy for us to find friends Tom and Nancy Johnson, who we hooked up with for a resort tour (and free lift tickets…thanks!). These guys have been skiing Powderhorn for decades, and Tom is a part time ski patroller so we got the inside scoop on just about everything there is to know about this place.
Flat Top Flyer
Powderhorn has seen it's ups and downs since opening in 1967, but the best thing to improve the resort came in 2015 when the Flat Top Flyer high-speed quad was installed. This is where we started and finished our day. These are straightforward Colorado-style runs which means wide groomers and bump runs. This side of the resort has some great grooming with 2 of the most popular blue groomers "Bill's" and "Maverick". Our favorite on this side was Equalizer, which starts out steeper with bumps and then transitions to a rolling blue groomer that sees little traffic. On the far eastern side "Wonderbump" was a great steep groomer.
West End
The West-end lift is the other ski pod at the resort other than the beginner zone at the bottom. This is a long, slow, ancient double chair, but the payoff is the best terrain on the mountain.
The best groomer at Powderhorn "Red Eye" is an incredible, long, winding, rolling blue that we would rank as one of the best intermediate runs in Colorado. There is also a lot of tree skiing on this side with lots of secret little zones Tom and Nancy showed us. "Mudslide" is the only true double-black on the mountain but the hard part is pretty short, so don't go to Powderhorn if you are looking for steeps!
A fun fact is that because of the lack of natural avalanche terrain within their boundaries, Powderhorn does not have to do any avalanche control.  Our favorite run on West End was "Hooker" to "Snowcloud", which again starts off steep at the top and mellows to a long winding blue cruiser. Delightful!
The good
Great terrain and variety for a small area
Easy access to Grand Junction, which is a great place to stay
Very community-oriented
Unique tabletop mountain with views of the surrounding mesas
Uncrowded
Excellent grooming
Inexpensive to ski and stay
The bad
Needs more snowmaking
Inconsistent and sparse snowfall
West-End chair needs an upgrade
The Bottom Line
We enjoyed our day at Powderhorn so much. This unique resort ended up being one of the most memorable experiences of the year for us. Because of the lack of crowds, interesting terrain, and easy access from Grand Junction, we are very likely going to return some day!