Ski Discovery, Montana
Discovery is a relatively unknown resort that few outside of Montana know about. However, it enjoys a dedicated following of locals from Butte and Missoula who make the 1-2 hour drive to get there. This review is based on one visit during average late January conditions.
Stats
Real Vertical 

?

1,660′, Rank: 91

Size

2,200 Acres, Rank: 39

Annual Snowfall 

?

215″ claimed / 215″ actual, Rank: 84

Ski Pods 

?

4, Rank: 72

Distinct Trails 

?

67, Rank: 64

Review Date

January 2022

Number of visits

1
Our Rating

★★

Resort website

https://www.skidiscovery.com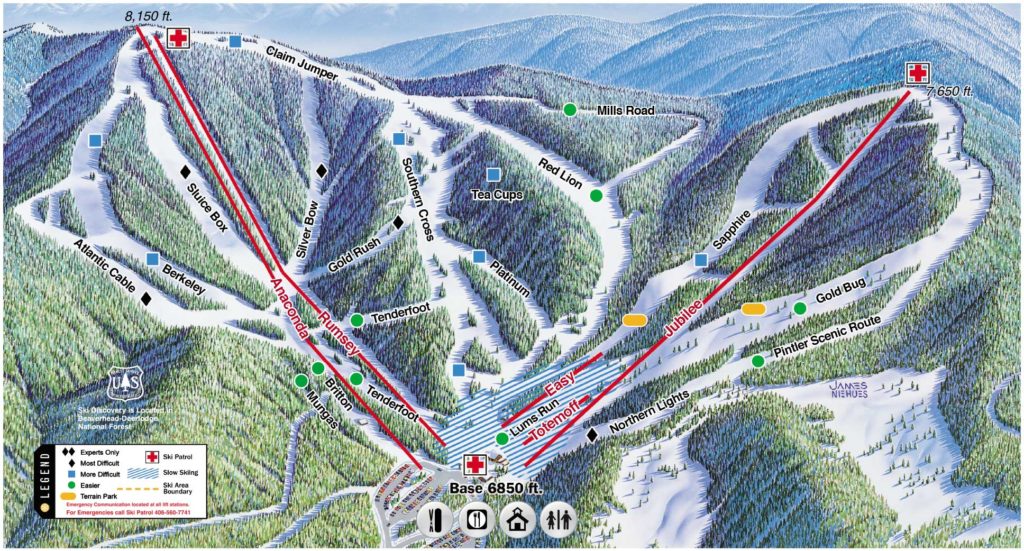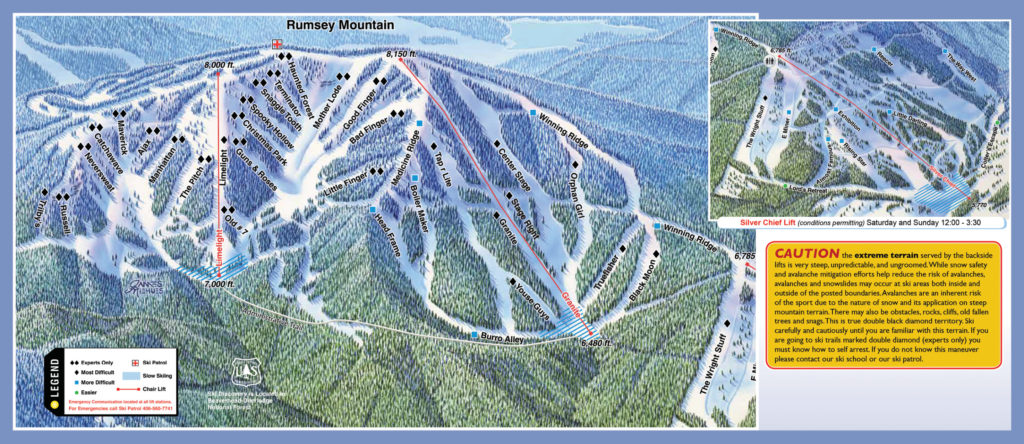 Ski Discovery Review
Discovery was one of those non-destination resorts we struggled whether to include on the list.  We had never heard about it from other skiers or seen any social media posts.  If you are familiar with this place, imagine our surprise when we first saw the backside terrain off the Limelight chair.  Wow!  This is what we are always hoping to find.
We arrived after a long painful drive from Anaconda in the world's longest 25 MPH zone.  Because it took us a lot longer than expected, the parking was pretty full.  Given its location far away from any major population centers, we were expecting the place to be pretty empty even on a Saturday. That was definitely not the case.
We recommend only skiing weekdays here because the infrastructure of old lifts and a small lodge are not up to weekend crowds.
The frontside
Everyone starts on the front, which has a nice variety of easy and intermediate trails that we enjoyed fast laps on.  This is where we would have expected some nice grooming on most of the trails off the Anaconda chair, but none had been groomed except the main runs that everyone takes down off Claim Jumper, which are super wide.  We think because they are grooming those few wide runs they may not have the capacity to groom the other runs that really need it.  The non-daily groomed runs could work for the majority of local skiers.  But we are always looking for steep groomers — especially when snow conditions are firm.
The Anaconda chair was very busy and always had a long line.  This would really benefit from a lift upgrade to a high-speed 4 or 6 place.  Luckily the Rumsey chair is right next to it and running (perhaps only on busy days).  People don't seem to like 50 year old center-bar Riblet chairs so no lines there!
The other chair on the frontside is Jubilee which is too flat and not worth it for us.  It's a long chair which rises only 800′.  We checked that box by going straight down the one blue run there.
The backside
The gates to the back open at 10AM.  Our first view of that side was pretty shocking given what we had just skied on the front.  The backside is full of long, varied steeper runs off the Granite chair and VERY steep double-blacks off the Limelight chair.  We explored both sides of Limelight (cautiously) to get the whole experience.
Granite has some of the best varied and somewhat steep terrain that every ski resort would love to have.  Once again, only a couple runs had been groomed so not many people were skiing it.   We took as many runs as we had time for on that chair but enjoyed Winning Ridge the most for the consistent slope and fantastic views.
Silver Chief chair
This was closed, which made sense given the shallow snow depth.  There was very little snow down there and I think it would be very unusual for there to be enough snow for that to open.  Comments I could find online suggest that nobody has ever seen it operating in the winter.  I couldn't find any skiing photos taken from that terrain using an image search.  If it was operating, it's only shown on the trail map as open weekends which is why we planned our visit for a Saturday.  Without snowmaking this can be considered a summer mountain biking lift only. This is why we excluded it from the Real Vertical number in the stats.
Lack of natural snowfall
The backside terrain reminded us of some parts of Taos New Mexico which is one of our favorites.  Unfortunately it really needs a lot more snow.  We absolutely gutted our skis on rocks, and did not expect it at the midpoint of the ski season. Discovery had only received 65″ of snow for the 2021-22 season to date, which was right around average.  This is really the biggest problem Discovery has.  Locals speak of the "Donut Hole" where storms hit every place around it but not Discovery.
The lack of natural snow issue could be vastly improved with snowmaking but it has very limited snowmaking, only on the bottom of the frontside.  Sun Valley is in a similar low-snowfall zone but with the extensive snowmaking, they solved that problem nicely.  I doubt Discovery can make that kind of investment since it's mostly for the small populations of Butte and Missoula and all the small towns between them.
BLLF (Base Lodge Lunch Fail)
Based on the crowds we were seeing we delayed lunch until 12:45.  One look inside and we knew that wasn't going to work either.  Seating was by reservation only, and we didn't have one.  The line to get food snaked all the way across the cafeteria.  This would have been fine if there was any other place to get food, but there isn't.  Pack a lunch if you go on a weekend unless you don't mind early or super late lunch.
We went back out skiing and returned at 2:30 for a very late lunch which worked a lot better.  The food was actually a notch above average ski resort cafeteria food, heavily influenced by the Chocolate Chip cookie we had.  We saw that just about everyone had at least one on their trays — sometimes 2 or 3.  Yum!
The good
Uncrowded weekdays
Excellent variety and quality of terrain
Lots of serious double-black terrain
Great views
Nice community resort feeling with friendly staff and guests
Inexpensive
Best Chocolate Chip Cookies!
The bad
Limited vertical of only 1,660 feet
Lowest snowfall of all the Montana resorts on our list and very little snowmaking
Not as much grooming as we would expect for a resort of this size
The only food service at the base lodge cafeteria is inadequate for weekend crowds
The bottom line
Discovery is a charming resort with some really great terrain and friendly locals, but the lack of snow, snowmaking, and grooming is really limiting its potential and results in the lower rating.  It deserves to be a top 100 resort on our list but we probably wouldn't make a special trip back.  There are just too many other great choices in Montana.  There is a lot of potential there though, and the terrain is a great canvas to paint a fantastic resort on with upgrades to lifts, snowmaking, grooming, and lodges.  We will stay tuned to see what happens with it in future years but we suspect they won't do much investment so they can keep it as an inexpensive local resort.  And that is just fine.