Big White, British Columbia
Big White is the 3rd largest resort in British Columbia and has a solid following of both Okanagan locals and destination skiers. In addition to being the largest resort in the area, it also has the highest altitude and the most snowfall.  For this review we visited once under decent but not perfect conditions.
Stats
Real Vertical 

?

2,656′, Rank: 37

Size

2,765 Acres, Rank: 29

Annual Snowfall 

?

300″ claimed / 282″ actual, Rank: 54

Lift Pods

?

8, Rank: 29

Distinct Trails 

?

118, Rank: 26

Review Date

February 2016

Number of visits

1
Our Rating

★★★

Resort website

http://www.bigwhite.com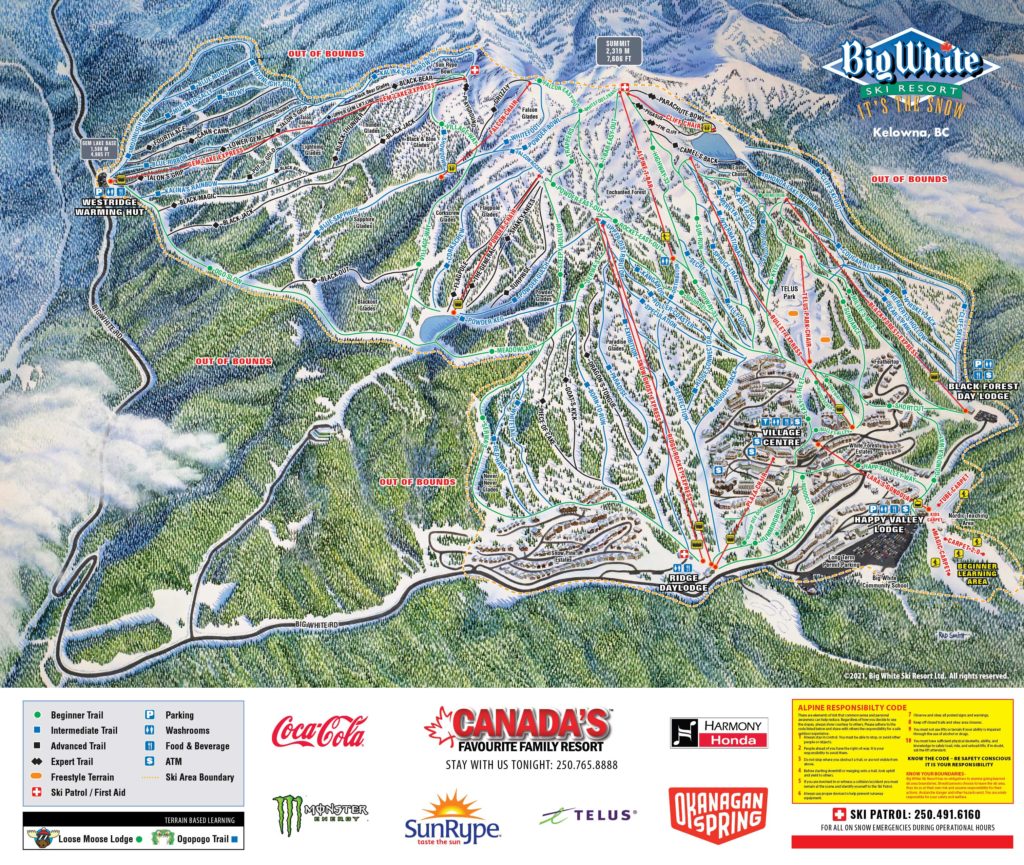 Big White Review
Big White was a little too big to really get a complete picture in one day of skiing under less than ideal conditions. Also, we had skied Apex Mountain the day before and had really loved it, which colored our opinion of Big White a bit. There had been some rain below about 6,000 feet which strangely seemed to affect Big White more than Silver Star or Apex.
Ski terrain
We started at the base of the Gem Lake Express which is the lowest point of the resort. That one chair has almost 2,300 feet of vertical drop and we were really looking forward to spending a lot of time there. Unfortunately, due to the snow conditions it was really not skiable unless it was groomed. Well, only one of the runs was groomed and it was the easiest one. It looks like really interesting terrain though and on the right day and with more grooming, it could be a great zone. In general we found grooming to be a little sparse at the resort and given the firm snow conditions that definitely impacted our opinion.
Our favorite chair
The best skiing of the day was on the Falcon Chair, which is an ancient double chair above the top of Gem Lake. It's not much vertical, but was above the rain-affected snow. When we were there, there were a few inches of fresh up there among the "Snow Ghosts" which are trees that are completely encrusted in rime ice from the frequent foggy conditions. It was pretty magical winding down the steeper terrain up there on the best snow that we found.
The Powder Chair
We spent most of our time on the Powder chair, which is a shorter triple and another one of the few fixed-grip chairs. While Big White is full of high speed lifts,  the Powder Chair should probably have been upgraded before some of the other areas because that serves some great terrain. It's also high up on the mountain providing better snow conditions. Unfortunately it's a bottleneck for people trying to get from the left side of the mountain back over to the right. Because of that, there was always a long line, even though not many people were actually skiing the runs.
A strange lift placement
We found that a little strange when we headed over to the 4 pack Snow Ghose and 6-pack Ridge Runner express, which were placed parallel to each other. This creates the equivalent of a 10-pack high speed chair. With 10 people starting their runs every 6 seconds, the runs were pretty crowded. But it is some great terrain that had a little more grooming than other areas of the mountain.
Base area is cool
Big White has a great village area which more resembles a typical US mega-resort village with large hotels and plenty of restaurants. We had some great lunch food at the BullWheel Gastro Family Pub so couldn't report anything about the resort-owned restaurants since we didn't eat there. It's always great to find convenient non-resort food options and this place has lots of them.
After lunch we hit the Bullet Express and Black Forest Express. Bullet was not that interesting but there were some interesting winding blue groomers on Black Forest. That lift was very popular with a long line though.
We would have liked to get to the very top but the T-bar was having mechanical issues, and by the time we got to the Cliff chair it was closed for the day. We kept forgetting that interior BC resorts actually close before 4PM and they start roping things off sometimes around 2:30.
The good
Most snow and highest elevation in the Okanagan
Nice base village area
Interesting terrain at the top amongst the "Snow Ghosts"
The bad
Often fogged-in at the top
Crowded
Sometimes inefficient lift layout
Mostly faces south so catches a lot of sun
The bottom line
We weren't really feeling it at Big White and definitely preferred Apex and Silver Star. However, Big White has a lot going for it and should not be skipped if you are in the area.