Deer Valley, Utah
Deer Valley is one of the 2 Park City resorts, consistently ranked in the top 5 in the annual Ski Magazine readers survey.  This review is based on many different visits over about 20 years.  Some with good conditions and powder, some in more scratchy average conditions.
Stats
Real Vertical 

?

1,910′, Rank: 77

Size

3,000 Acres, Rank: 21

Annual Snowfall 

?

300″ claimed / 275″ actual, Rank: 61

Lift Pods

?

14, Rank: 10

Distinct Trails 

?

101, Rank: 33

Review Date

Multiple visits between 1998 and 2018

Number of visits

6
Our Rating

★★★★

Resort website

https://www.deervalley.com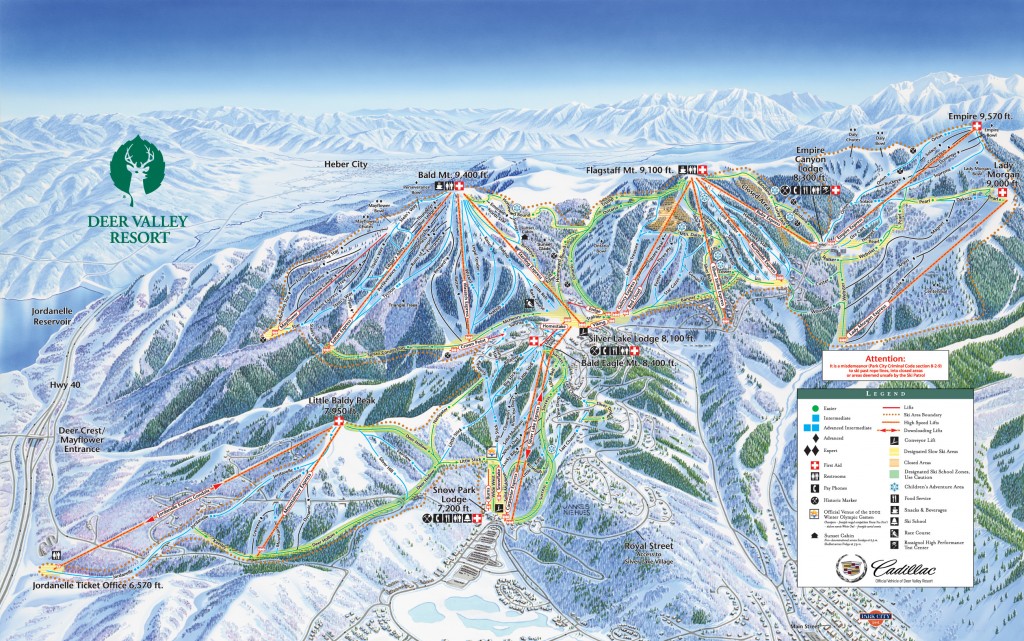 Deer Valley Review: Overall
Deer Valley is well-known as a place that pampers skiers (and ONLY skiers since snowboarders are not allowed). It has huge amounts of groomed terrain, and great restaurants and lodges. Deer Valley touts 3,000 acres, 3,000 vertical feet, 300 inches of snowfall, and 100 runs.  Most of the major lifts are of the high-speed variety (11). And there is a lot of snowmaking (660 acres).  It's a reliable place to plan a ski vacation in advance if you are looking for the kind of skiing that Deer Valley has.
High speed carving heaven
If you like high-speed carving, this is the place to go.  The runs are groomed to perfection and have a consistent pitch.  Unfortunately, the "skiers only" feature attracts a lot of people that love to use up the WHOLE run making huge arcing turns.
Empire Mountain
If you plan your runs, you can take a couple of runs on each ski pod in one day.  We usually head right over to Empire and Lady Morgan in the morning.  Lady Morgan was added in 2007 and is a great addition to the resort providing some much-needed advanced terrain.
Flagstaff Mountain
Next, we would ski Flagstaff Mountain where the runs are a bit shorter and are mostly intermediate.  Between Empire and Flagstaff, the Daly chutes are the only truly steep terrain on the mountain.  We rarely ski it because it doesn't actually have much vertical and it develops a significant cornice at the top which can be a bit spooky.
Bald Mountain
Bald Mountain is the main attraction at Deer Valley with significant vertical drops and steeper terrain.  Stein's Way is our favorite run.  The Sultan Express is a great chair to lap with 1,776 feet of vertical drop and steeper groomers.  Note that Bald Mountain is well-named and the top can be very windy and a white-out on a storm day.
Jordanelle
Jordanelle is one of our favorite ski pods when it's cold and the snow is good.  It is served by a gondola with 1,318 feet of vertical drop. It has great grooming, and very few people. You also get to ski right past some of the most impressive slope-side ski mansions in North America.
Food and lodges
We usually look forward to lunch because it has variety of choices and great food.  The lodges are very nice and well maintained. Although it has always been crowded at lunch, especially if it's snowing.  Go early or late for a guaranteed seat.
There is wait service dining in the Silver Creek lodge, which is a great option when it's busy.  It's not that much different in price than the cafeteria dining and it's much easier to get a seat.
The good
Grooming
Excellent lifts and lodges
Large resort spread out over several distinct peaks
Lots of steeper groomers
Extensive snowmaking
The bad
Almost everyone is on shaped front-side carving skis, and many of those people carve across as much run as they feel like without concern for others.
Expensive with very few options for discount lift tickets
Windy on a storm day
Lack of high-alpine ungroomed diversity
Large vertical doesn't ski that way
The bottom line
As great as Deer Valley is, we rank it at the bottom of our Wasatch resort rankings. For us, it has something to do with the lack of diverse terrain and the way people ski it.  Groomers are great fun. But there isn't much else that isn't super bumped-out. And although there is 3,000′ of vertical between the high and low points, there is no way to ski more than 1910′ of it in one run.
Deer Valley will likely link up with the new Mayflower resort in the next few years, so after they do that we will definitely want to go back and check it out.