Breckenridge, Colorado
In the early 2000's, whenever we flew into Denver to ski Vail and Summit County we seemed to end up at Breckenridge for a day. We always had a lot of fun there on the wide groomers and above tree-line terrain at the top.  For this review we visited 3 times and for all 3 of them we had good to great conditions.
Stats
Real Vertical 

?

3,190′, Rank: 28

Size

2, 908 Acres, Rank: 27

Annual Snowfall 

?

350″ claimed / 282″ actual, Rank: 54

Lift Pods

?

18, Rank: 7

Distinct Trails 

?

187, Rank: 6

Review Date

March, 2009 (multiple visits from 2006-2009)

Number of visits

3

Our Rating

★★★

★

Resort website

https://www.breckenridge.com/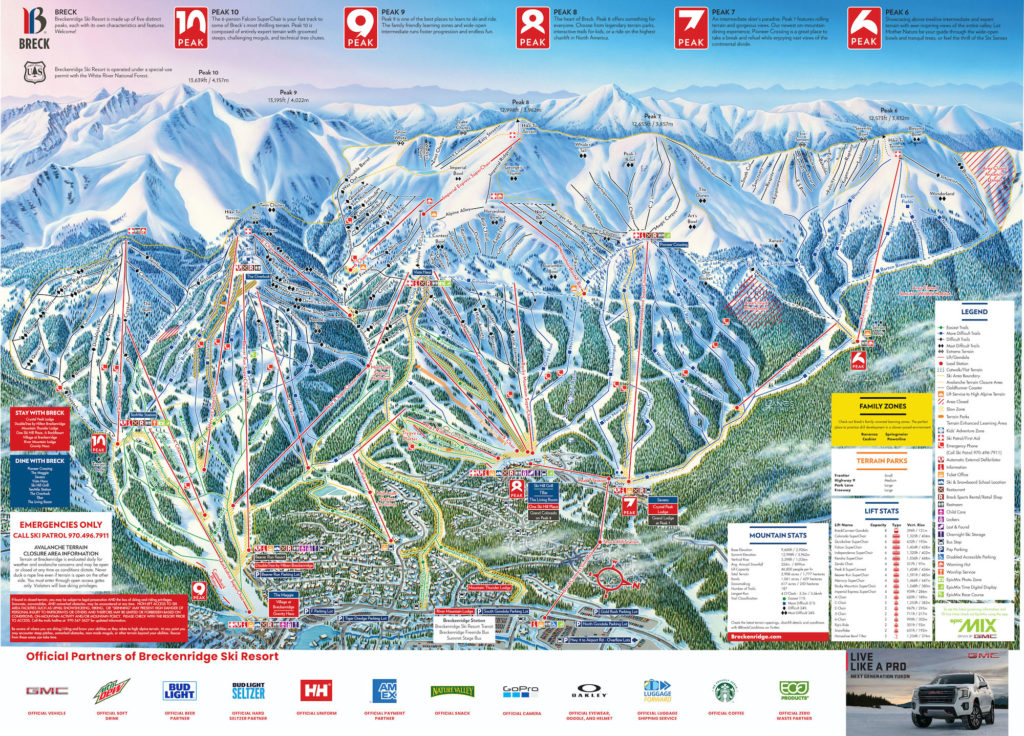 Breckenridge Review
The last time resort visitation numbers were freely available, Breckenridge was the 2nd most visited ski resort in the United States (Vail was #1), so it's certainly not a hidden gem, but even with the crowds we have thoroughly enjoyed our days there.  One of the reasons is the town with lots of authentic Victorian buildings from when Breckenridge was a mining center.  The town is at an elevation 9,700 feet, and the slopes rise above that, so this is one of the highest average altitude resorts we have skied.  Spending your day at an average of 11,500 ft can be difficult even when you live 6,500 feet in Tahoe!
Ski terrain
The terrain is spread across 5 peaks with good separation between them.  We usually start on Peak 10 and work our way north to Peak 7 at the end of the day.  Peak 6 was added to the resort after our last visit so we haven't skied it yet.
Most of our time is usually spent at the top of Peak 8 on the Imperial Express and T-bar.  The T-bar is our favorite.  It's ironic that a huge resort with so many lifts has some of the best terrain served by a T-bar, but it sort of makes sense for them to keep it as a T-bar because it is windy up there.  Also, the T-bar tends to weed out a lot of people who are not comfortable riding that kind of lift, leaving the terrain less crowded.  Chair 6 is another ancient lift that we seem drawn to because of the terrain.  We usually hike up to the summit at 13,000 feet from the top of the Imperial Express.  From there you can see Copper Mountain to the west and then ski down the Lake Chutes — a vast above-treeline area which is not actually that steep or difficult.
The good
The huge numbers of tourists here are drawn by the wide groomers and good snow that comes with the high altitude, as well as the exceptional town.
The terrain pods are nicely separated, and the runs are fairly consistent and not usually broken by a lot of intersections and roads.
The slopes are easily accessed by almost any lodging property in the town from several base areas.
The bad
Of course being the 2nd most popular ski resort in the United States means there are crowds.
The base of Peak 8 is crazy with 2 high-speed lifts fed by one massive maze.
The wind and cold temperatures can be a problem due to the high altitude.  One trip we had featured 50 mph winds and an air temp of about 12 degrees F, which was about as cold as we can take when there is a strong wind.  I still remember everyone jammed into the hut at the top of Peak 7 during a particularly nasty part of the storm.
Don't Miss…
The hike to the top of Peak 8 is short and worth the view and run down.  After skiing, get some Crepes at the street vendor on Main St.  It takes a long time, but is well worth it and there is a fire pit that always seems to be going next to it.
The bottom line
We hope to go back the next time we are in Summit County or on our way to Vail.