Sun Peaks, British Columbia
Sun Peaks is northeast of Kamloops in an area that doesn't have any other large ski resorts. It's the 2nd largest ski resort in Canada, with 3 distinct mountains so we decided to spend 2 days there on our 2017 Big Trip.  This review is based on one visit of 2 days during fantastic conditions.
Stats
Real Vertical 

?

2,894′, Rank: 31

Size

4,270 Acres, Rank: 8

Annual Snowfall 

?

237″ claimed / 207″ actual, Rank: 86

Ski Pods 

?

8, Rank: 29

Distinct Trails 

?

135, Rank: 18

Review Date

February 2017

Number of visits

1
Our Rating

★★★★

Resort website

https://www.sunpeaksresort.com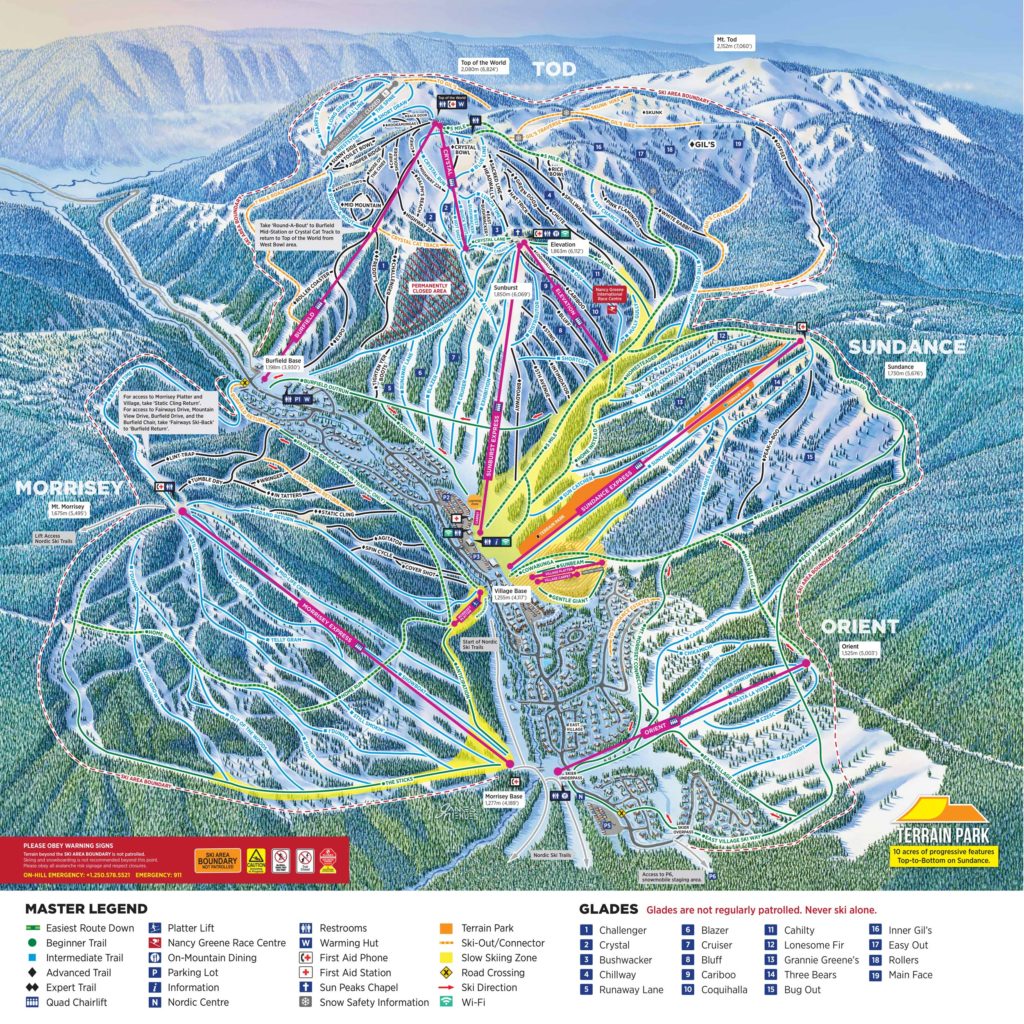 Sun Peaks Review
Sun Peaks was the last resort on our 2017 Big Trip through Oregon and interior BC. We had to stay in Kamloops which was pretty far away because this was "American President's Day" which is what Canadians call it. Everything was booked by the time we figured out our schedule.
We were happy to stay in Kamloops though. The town of Kamloops is fairly large and has definitely far cheaper lodging options. The drive from Kamloops to the ski area was fairly easy anyway.
Our experience
The icy snow conditions we experienced elsewhere were much improved at Sun Peaks with some fresh snow both days. We spent 2 days to ski most of the mountain. However, we definitely didn't get everything because this place is BIG, with a lot of hidden zones that aren't obvious to the casual tourist like us.
Sunburst
We started on the Sunburst Express which services a whole bunch of fantastic groomed blues down the front side. It also has some nicely steep blacks on the east side.
Crystal – Our favorite chair
After skiing a nice variety of groomed runs on Sunburst we headed up to the top of the mountain on Crystal. This was our favorite chair, along with the upper part of the Burfield chair accessed from the midway loading station. I think we skied everything on Crystal and a good selection of lines on Upper Burfield.
The trail map doesn't really do that area justice. There are lots of unnamed lines from the top of Mt. Todd. In fact, at one point, we got a little too far off the beaten path into a challenging terrain trap that was very steep and narrow. It was also super foggy up there when it was snowing and it was hard to find our way around not knowing the area at all.
The Burfield
The Burfield chair is probably the longest fixed-grip chair in existence anywhere today. It rises an astounding 2,894 vertical from the lowest point of the resort to the highest. That is a LONG ride and it took quite a chunk out of our first day of skiing. It was interesting seeing the very steep black runs from the chair that weren't really skiable due to ice underneath the couple of inches of fresh. I would imagine this terrain would be a lot like the lower front side at Taos when the snow is better and I would have loved to ski it, but it just wasn't possible when we were there.
Sundance and Mt Morrisey
The 2nd day we explored the other 2 mountains "Sundance" and "Mt. Morrisey". Sundance is quite flat so we just sampled it and moved on. It is a super popular area and we were glad half the skiers were on that mountain. Morrisey is a little hard to get to but has some interesting easy blues on the east face, and some very challenging black and double-black bump runs on the north face. However, the conditions down there in the un-groomed terrain were quite firm so although it was skiable, it was a real workout.
Lunch and lodge
Both days we had lunch in the village and the first day we found a cafe that we really liked. Even though the resort was super busy there seemed to be a lot of dining options that we could have chosen from, but we like the cheaper simple eats in general so that was perfect for us.
The Gil's zone
Later in the afternoon we headed back to Mt. Todd and explored some of the Gil's zone which is short but has more of a backcountry feel to it with some great glades. We also tried the T-Bar which is marked blue but it's really green.  As of 2021 the T-bar is permanently closed.  Not sure what the plan is there, but it's surprising since there were a lot of people skiing it when we were there.
The friendly Canadians
We enjoyed talking with the friendly locals on the chairs when we rode with other people. They were without fail very interested and welcoming of the fact that we came up from California to ski their paradise. I don't think we've ever felt as much at home skiing a place that is so far away.
The good
2nd largest resort in Canada
Great quality of snow being so far north
Super friendly locals
Nice variety of terrain
Great grooming and steep groomers
Easy access and parking
Nice small base village with a variety of shops and restaurants
The bad
Could use more natural snowfall
Steepest terrain is lower down on the mountain instead of up top
Would we go back
Oh yes — definitely planning to go back to Sun Peaks after the project is over and we can devote more time to repeating some of our favorite places.