Heavenly, California
Heavenly ski resort is one of our three home resorts, about 15-mins from our house in South Lake Tahoe.  This review is based on hundreds of days of skiing our home resort under every condition.
Stats and Rating
Real Vertical 

?

3,280′, Rank: 18

Size

4,800 Acres, Rank: 7

Annual Snowfall 

?

360″ claimed / 321″ actual, Rank: 38

Lift Pods

?

12, Rank: 13

Distinct Trails 

?

97, Rank: 35

Review Date

 (multiple visits from 1972-current)

Number of visits

200+

Our Rating

★★★★

Resort website

https://www.skiheavenly.com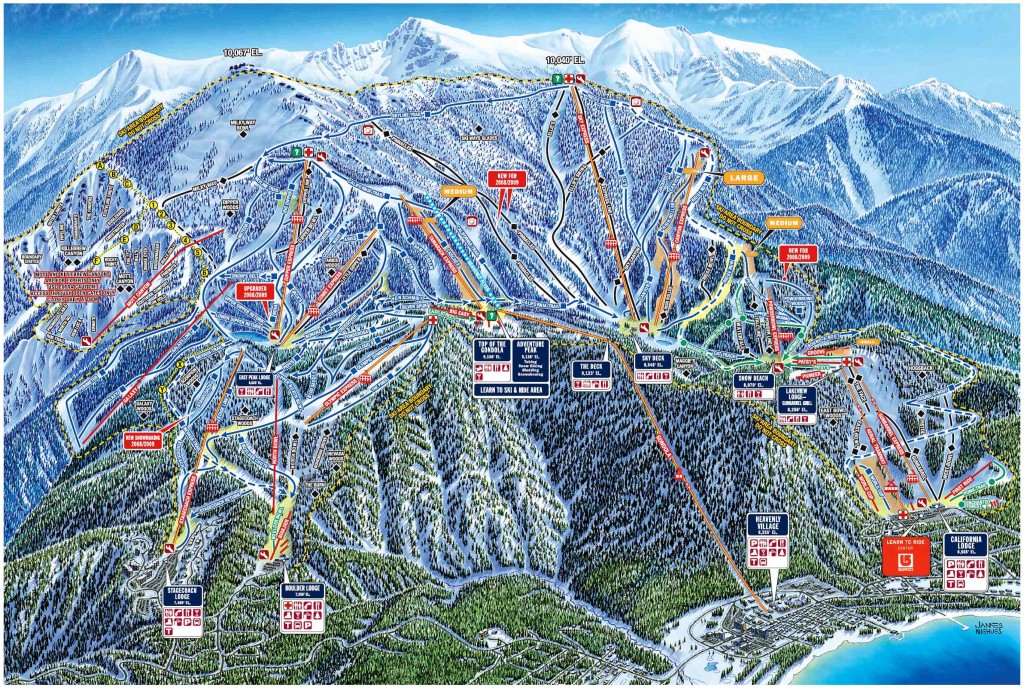 Heavenly Review
The Heavenly ski resort is our home resort since 2005. So we have a lot to say about this place.  It's one of our favorites places we have skied in North America. The bottom line is that some of our best skiing experiences have been there, and we almost always have a great time whether the condition is good or not.
Our routine
We usually park at the California lot. We like to get there by 8:15 on a weekend so we can get first chair at 8:30.
The Gunbarrel
The lower California runs are very steep, bumpy, and at low elevation which makes it pretty grim at times. There are many distinct lines on Hogsback which are steep and fun when there is enough snow to cover the rocks.  When the East Bowl is groomed or there is more than a foot of new powder it's a great run.  The trees in Avalanche Bowl to skier's right of East Bowl are some of my favorites on a powder day when there is an adequate base.
The Powderbowl
The next chair up is Powderbowl.  On a windy day storm day when the upper mountain is closed, this is your only option.  Powderbowl trees are fantastic before they get plundered.  The trees above and to skiers right of Waterfall are a "secret stash" of ours for untracked powder. The power line to skier's left of Waterfall is steep fun.
Sky and Canyon
Upper California, access via Sky and Canyon chairs, has some great groomers on a non-powder day. This is especially the case if Ellies or Liz's is groomed.  On a powder day, there is a huge area to skier's right of Ellies and Pinnacles that stays relatively untracked due to the difficulty getting there. When Sky is closed on a windy powder day but Canyon is open (which happens a lot), it is possible to traverse all the way over to Ellies and ski untracked powder on the wide open run.
The Nevada side
When Sky gets too crowded, we often head over to Nevada from top of Sky chair. What we ski depends largely on conditions.  On a powder day we most likely won't even touch the groomed runs.  Our usual first run in Nevada is through the trees in Milky Way bowl.
Dipper and Comet
We work our way from Milky Way over to the runs off the Dipper chair, then Comet.  You can find good tree runs of skiers left and right off the Comet chair.  Little Dipper run itself is a bumpy challenge if you feel like punishing yourself.
The Olympic
Next we head over to the Olympic chair.  That is where we do our "top to bottom" run on the Nevada side It starts at the top of Olympic all the way down to the bottom of Stagecoach.  It's a certain leg-burner.  On a powder day, we will go do "North Bowl Trees" to skiers left of the Olympic and North Bowl lifts. There are a couple of lung-burning long powder runs.
Stagecoach
Stagecoach chair is the main access lift if you start from the Nevada side. It has some great groomed runs skiers right of the chair with great views of the Carson Valley below.
Special mention
From the top of Olympic it is possible to ski all the way down to the bottom of the Gondola by using the Firebreak gate.  It's technically out-of-bounds and is definitely not patrolled. So ski at your own risk.  Realistically, it's full of people on a powder day and you would have a tough time getting lost if you tried.  Note that the bottom third can be really difficult to navigate sometimes. But  after a big snowfall, you can find all the powder you want on the upper 2/3's, which is somewhere around 2000 vertical feet of perfectly pitched open tree skiing.
The good
We are tree skiers, and Heavenly has the best tree skiing on the planet as far as we are concerned.  The trees are widely spaced and there are plenty of less steep areas with great tree skiing after a storm.
The grooming is also 2nd to none, so after the powder firms up off-piste, a great day can still be had on the groomers.
Most of the lifts have been converted to high-speed quads over the years.
The views of Lake Tahoe and the desert to the east are spectacular.
There are 3 gates that provide easy access to some great sidecountry, with the firebreak gate providing 3000′ vertical of "lift served sidecountry"  (if there is such a thing) via the gondola.
The attitude is more positive and laid back at Heavenly than places like Squaw.
The bad
Heavenly gets a little less snow being on the east side of the lake than places like Kirkwood, Sierra at Tahoe, and Squaw do being on the west side.
The lines on the Sky and Dipper chairs are often long.
Wind often closes the upper mountain before and during a storm, which makes it impossible to ski between the California and Nevada sides.
They need to put a lodge on the California side where the Sky Deck is now because sitting outside at 8600′ in January is not usually comfortable.
Don't Miss
The "Top to Bottom" run (see above), Killebrew Canyon up to 3 days after a storm, the steep chutes in Mott Canyon, groomers on the California side, views of Lake Tahoe, lunch at the Lakeview Lodge.
Our best experience
So many to choose from, but a good example is the day after Christmas, 2012 with 12″ of fresh powder on top of several feet of fresh powder which fell the previous week.  Ellie's run had one track down it when we first skied it that day.  I've never seen AiRung enjoy a powder run as much as that one!
The bottom line
Heavenly may not be at the top of everyone's list due to typical variable conditions, crowds at some of the strategic lifts, parking issues, and Vail ownership ($$$).  But for us having seen all the good and bad it has to offer, it is still one of our favorite places to ski.  Being only 15 minutes from our house means we will continue to spend a lot of time there!