Banff Sunshine, Alberta
Banff Sunshine (formerly Sunshine Village) is near Banff, Alberta and is known for having the deepest most reliable snowpack of any of the Alberta resorts. It's not as spectacular as nearby Lake Louise, but with consistent early snowfall, modern lifts, and being closer to Banff than Louise, it's a popular choice in Alberta.  This review is based on 2 days of skiing early-season.
Stats
Real Vertical 

?

3,154′, Rank: 23

Size

3,358 Acres, Rank: 15

Annual Snowfall 

?

360″ claimed / 258″ actual, Rank: 67

Lift Pods

?

10, Rank: 20

Distinct Trails 

?

102, Rank: 32

Review Date

December 2007

Number of visits

1
Our Rating

★★★

Resort website

https://www.skibanff.com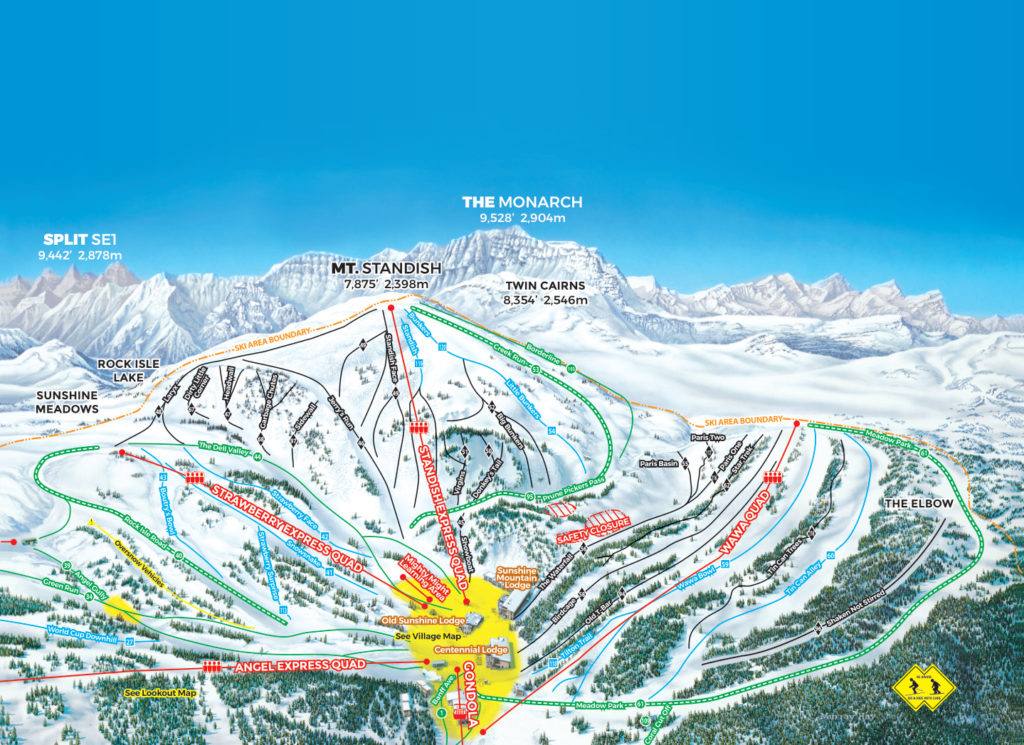 Banff Sunshine Mt. Standish trail map 21/22
Our visit
We skied Banff Sunshine in 2007 on our trip to Banff when we skied Mt. Norquay, Banff Sunshine, and Lake Louise. Banff Sunshine is only 10 miles from Banff and it's an easy drive on mostly freeway through some of the most spectacular scenery imaginable. Being just before Christmas, we didn't get to experience Banff Sunshine when it was fully open, so this review should be taken in that context.
The base area
As you arrive at the base, you can't see any of the resort from the parking lot. There is a gondola that takes you up to the real ski area 5KM up and to the left. The base of the gondola is in deep forest and much below the altitude where there is enough snow to ski without snowmaking.
The mountain stats vs. actual
Banff Sunshine is one of those places that does better on paper with impressive stats than it does when you are actually skiing it. The stats say 3,154′ of vertical. But there are a couple of problems: First off:  the base of the real ski terrain is actually the base of Goat's Eye.  Everything below that is a 5KM ski way back to the parking lot. You would never intentionally ski that other than to get back at the end of the day. The vertical from the bottom of Goat's Eye to the top is only 2,362′, which is adequate but not in the same league as Lake Louise.
The other problem is that there is only one chair with more than 1,500 ft of vertical. Goat's Eye is an impressive 1,900′ of vertical on it's own mountain. The 3 others in the 1,200-1,400 vertical range are on Lookout Mountain fanning out to cover most of it. The rest have very little vertical and are either very flat or have short runs.
What we didn't do
Banff Sunshine has a lot of really steep terrain, and with enough snow it would be a whole different experience than when we were there. "Delirium Dive" is their famous double-black terrain, and it was hard to imagine it even being skiable until much later in the season. Early season it looks pretty rocky.  There is a main line down from the bottom of the stairs that looks pretty easy, but the stairs would be the scary part for me!
There is more very steep terrain on Goat's Eye but it was completely stripped of snow by the wind when we were there, so there was only one way down on the intermediate run that is the easiest way down.
Our conclusion
The snow they had was great though, as it usually is in our experiences going to interior BC and Alberta. It was a spectacular place to ski with that scenery. Banff Sunshine often has the most depth in all of North America in November. So Christmas skiing is usually going to be good and it's a safe bet for planning a Christmas ski vacation there.
The good
Most snow in Alberta
Excellent steep terrain
Cold temps keep snow quality high
Views
Proximity to Banff
The bad
Actual vertical is 2,362′
Only one chair with more than 1,500′ of vertical
Lacking long intermediate runs
Would we go back
We ranked this a bit low due to the strange mountain layout, but it's worth a visit if you are in Banff. It's a unique experience for sure.