Fernie, British Columbia
Fernie is in far south-eastern British Columbia on the Powder Highway.  It's well known as a powder haven with consistent snowfall, and all that snow comes with a great town.  This review is based on skiing 3 exceptional days during a big powder cycle.
Stats
Real Vertical 

?

3,320′, Rank: 16

Size

2,500 Acres, Rank: 34

Annual Snowfall 

?

360″ claimed / 376″ actual, Rank: 19

Lift Pods

?

7, Rank: 36

Distinct Trails 

?

137, Rank: 17

Review Date

February 2018

Number of visits

1
Our Rating

★★★

Resort website

https://www.skifernie.com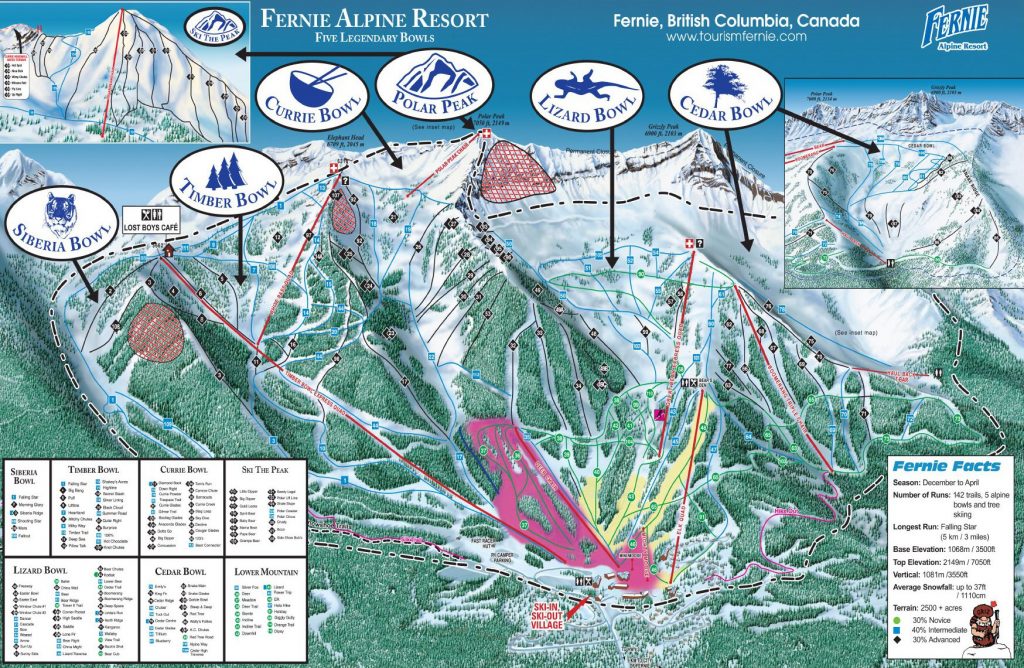 Fernie Review
Fernie is known for great snow. And we happened to hit it during the best conditions of the year in a far above average season. It snowed for almost the entire 3 days we were there.  I got tired of scraping the snow off the truck in the mornings.  This is a good problem to have!
Two Days of skiing powder!
The first day was an 18″ powder day.  About 30″ of snow had fallen the week before, so needless to say it was soft everywhere.  Although the powder was great, a lot of the bowl terrain was closed due to avalanche danger. Sadly, the topmost lift Polar Peak was buried and they basically gave up trying to dig it out! This cut 530 feet from the vertical drop making it a modest 2,790′.
What we didn't get to do
The closed terrain stayed closed for the entire 3 days we were there. This makes me feel like their snow safety program is underfunded.  This is a 2,500 acre ski resort, and probably at 800-1000 acres of it was roped off.  On top of that, one of the lifts went down and wasn't repaired during our stay.  When we went down for lunch, the main cafeteria was closed for an employee event.  Adding all those things together, our opinion of the RCR management is low.
The Mountain
Management aside, the resort has some impressive features besides the snow. We sampled some of the double-black terrain off the White Pass Quad in the Knot Chutes.  Although lot of the other double-black diamond terrain was roped off, the single-black terrain is impressive enough on it's own.  The entire ridge on skiers left of Currie Bowl is full of really nice steeps and trees and that was one of our favorite areas.  AiRung liked Black Cloud and some of the other more reasonable blacks in Timber Bowl.
Our favorite
We spent most of our time in Timber Bowl off the Timber Bowl Express and White Pass Quad.  Timber Bowl Express is one of only 2 high speed quads at the resort. If you want to rack up a lot of vertical, you've got to ski there or over on Great Bear Express. But Great Bear is much shorter and the terrain over there in Lizard Bowl is not that great.
The groomers
Our 2nd day there it wasn't snowing as hard so we got to sample some grooming.  There isn't really that much for a resort of this size, but our hands-down favorite was North Ridge off the Boomerang Triple.  The main run down the middle of Currie Bowl was another notable highlight for grooming. You don't really go to Fernie for grooming anyway. So if that's what you are looking for better head over to Panorama.
Food and lodge
There is a small village at the base with some decent food options. But the town of Fernie really deserves special mention, if we are going to talk about food.  It's a great town with lots of quality restaurants and everything else you want to find in a major resort town.
The good
One of the top 3 Canadian resorts on our list for snowfall
Lots of challenging traverse and hike-to terrain
Nice base area with convenient parking
Great town for a destination vacation
The bad
Poor management
Only 2 high-speed lifts — substandard for a major resort
Terrain doesn't provide many long groomers
The bottom line
Fernie was a lot of fun and we really enjoyed our time there. The depth and quality of the snow was fantastic and we loved the town. Although we hit it on a best condition possible, it really doesn't match up well to some of the other Powder Highway resorts, like Revelstoke, Red Mountain, or Panorama.