China Peak, California
China Peak is located on the western slope of the Central Sierra just east of Fresno.  It caters mostly to day skiers from the Central Valley of California.  We visited once for this review, under firm conditions but with plenty of snow depth.
Stats
Real Vertical 

?

1,570′: Rank: 97

Size

1,200 Acres, Rank: 66

Annual Snowfall 

?

325″ claimed / 300″ actual, Rank: 47

Lift Pods

?

5 (Firebowl T-bar never operates), Rank: 59

Distinct Trails 

?

35, Rank: 98

Review Date

January 2016

Number of visits

1
Our Rating (1-5)

★★

Resort website

https://www.skichinapeak.com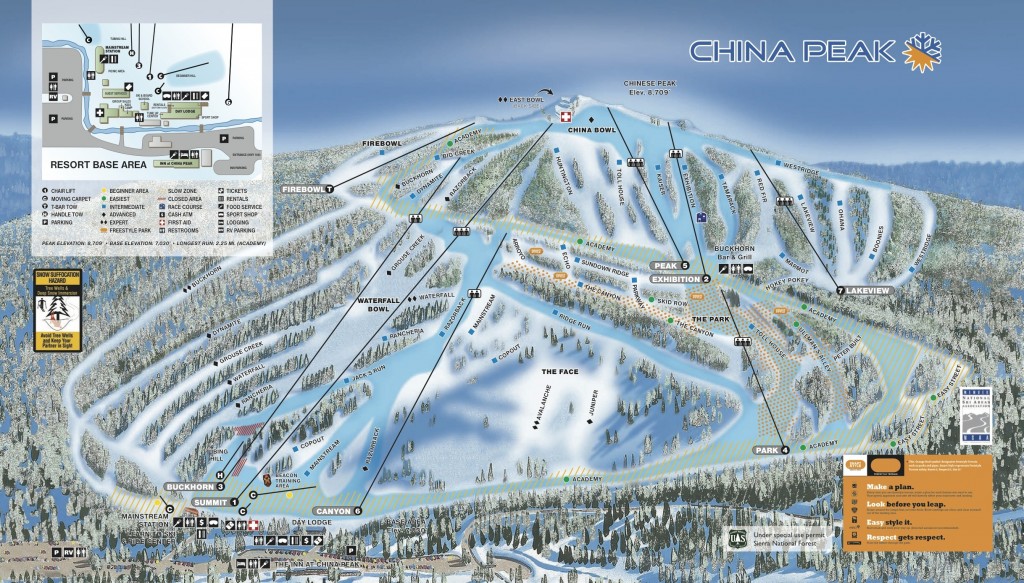 China Peak Review – overall
China Peak was the last of the 13 California resorts on our list. Although it's one of the closest resorts to our former Bay Area home, due to 2 years of limited operations because of the drought, it took us 3 years to finally get to it.  They claim to have 150 acres of snowmaking, but I haven't seen any evidence that they can really make a go of it without natural snowfall.
We skied it in mid January, which theoretically should be the coldest time of the year. However, we still managed to hit a warm spell, which made for some icy conditions in the morning. China Peak is fairly low at only 8,600′ at the summit. And it's 140 miles south of Tahoe which lowers the effective elevation even more. Still, we had a great time and were pleasantly surprised by some of the things we found there.
Being Martin Luther King weekend,  the crowd was expected. In fact, we heard some lift ops saying that it was the most crowded day they had ever seen. Ticket sales seemed to be completely overwhelmed with the crowds, so we didn't get our tickets until close to 10AM. However, there are 10 lifts and we rarely waited more than 5-minutes in lift lines.  This is a good time to mention the fact that the base area is expansive with lots of random old smaller buildings instead of the usual one or two large buildings that handle most of the functions.
The Experience
We skied it starting on lookers left. There is a triple chair that is the only chair that covers most of the 1570 vertical feet.  There aren't any high speed lifts here. So it takes some time being the longest chair on the mountain.  It's also the most popular chair. It was funny watching the 2 lift line attendants try to control the "weekend warrior" crowd, which clearly was not very familiar with how the whole "ski lift" thing worked.  There are some great winding groomers on this side that start out steep, flatten a bit in the middle, and end up steeper at the bottom.
What we didn't get to do
There are some great looking steep runs to skier's right of the triple chair, but due to bulletproof conditions off-piste, we didn't get to ski them. There's also a ton of great looking tree skiing, with pretty much all the trees on the mountain being widely spaced enough to ski.
Steeper stuff
Next up we hit the steeper stuff on the lower right of the mountain. Kudos to China Peak for grooming one of the steep black runs, which was almost too steep to ski safely given the somewhat icy conditions. There were a bunch of people giving it a go though.
Lunch and the ski lodge
I wish we could gloss over the lunch experience, but it deserves special mention as being the very worst lunch experience of all of the 50+ resorts we skied prior to this resort. The line was huge with lots of unhappy customers. The building was too small and badly in need of renovation. And the food choices were very limited. We managed to score a couple of pieces of decent pizza the being the only edible looking food we saw there. Understandably, food service is a very difficult proposition for a resort that sees the variable crowds and lack of snowfall that China Peak does. Pack a lunch if you must go on a busy weekend.
Intermediate terrain
After lunch we skied the lookers upper right quadrant of the mountain, which is intermediate heaven. They have 10 intermediate runs served by 3 lifts that go from steeper on the left to less steep on the right. The runs are with remarkably consistent pitch and are a lot of fun.
The good
Great variety and quantity of terrain
Grooming
Trees and steep terrain available if you want it
Nice unpretentious vibe
The bad
Ancient facilities and lifts need upgrading
Food service
Base area layout is poor
Lack of consistent snowfall and snowmaking
Low elevation
The bottom line
China Peak has an odd draw for us, so even though there are a lot of negatives we will probably go back some day.  It's a unique place that takes us back to our skiing roots.