Schweitzer, Idaho
Schweitzer is the largest ski resort in Idaho and is larger than anything in Washington which is it's primary market. It is the top resort in the Spokane area. It's large enough to be a destination resort and has a robust on-mountain collection of lodging and restaurants to serve them. This review is based on 1 visit during average mid-winter conditions.
Stats
Real Vertical 

?

2,400′, Rank: 49

Size

2,900 Acres, Rank: 28

Annual Snowfall 

?

300″ claimed / 284″ actual, Rank: 52

Lift Pods

?

9, Rank: 24

Distinct Trails 

?

92, Rank: 40

Review Date

January 2022

Number of visits

1
Our Rating

★★★★

Resort website

https://www.schweitzer.com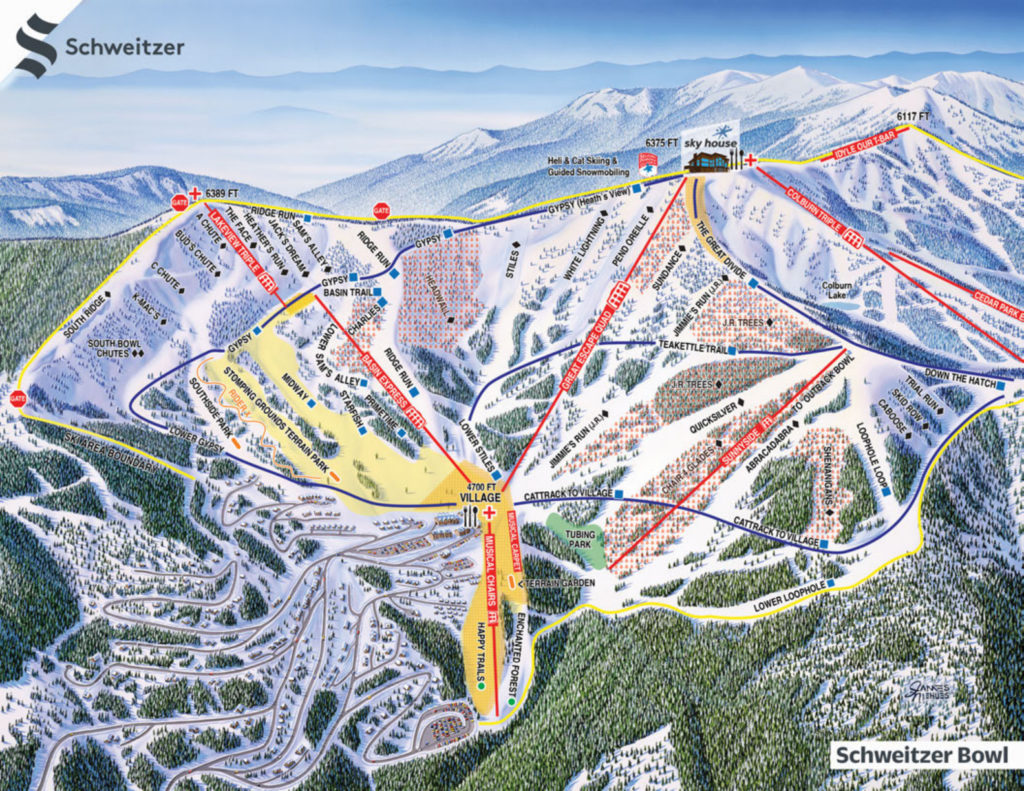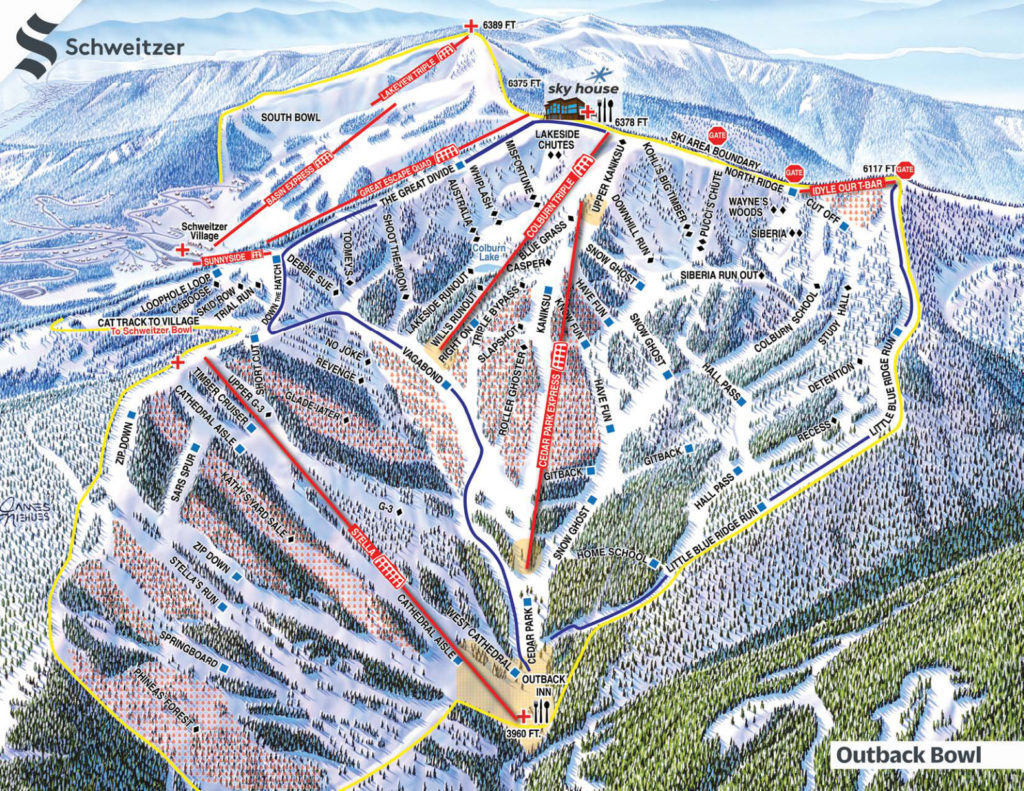 Schweitzer Review
Schweitzer was the 9th and last resort we visited on our 2022 Big Trip in late January.  This and Whitefish were the 2 destination resorts that really stood out as having everything:  Snow, terrain, lift network, grooming, food choices, and nearby lodging.
Although there are at least 4 hotels on the mountain and numerous private homes and condos, most people will begin the day by driving up the hill from Sandpoint/Ponderay.  Parking is convenient and free.  We stayed in a hotel down in Ponderay which was totally underwhelming.  This is the biggest downside to the resort really — the towns at the bottom of the hill are gray and industrial feeling and not at all what you would normally want a ski town to be like.  These are normal residential towns though, with lots of stores, restaurants, and conveniences (like Starbucks!) so it's very convenient.
It's worth noting that the resort is entirely on private land:  almost 7,000 acres of it.  They have developed only 700 of the 7,000 housing units they could ultimately build.  So in future years the on-mountain village will change radically.
Schweitzer Bowl
The resort is clearly divided into a frontside (Schweitzer Bowl) and backside (Outback Bowl).  Naturally you start on the front where there are 5 different ski pods.  One is for beginners and one is entirely very steep chutes and advanced terrain served by the Lakeview Triple.  It was there that we had a really foggy run that took a long time.  We couldn't see a thing and it was a "white room" experience we will not soon forget.  We can see how that terrain would be awesome under the right conditions, but unless you know the area intimately, skip it if it's foggy!
"Basin Express" is a popular lower intermediate zone with a few easy blues so we didn't spend a lot of time there since it's only about 1,000 vertical feet and the whole skier's right side is pretty much roped off as a terrain park.
"Great Escape" is the main lift which accesses the best terrain on the front.  Runs like "Pend Oreille" and others were nice long, steep groomers we enjoyed.  Almost 1,700 of consistent vertical is available on that lift which makes it the signature lift pod on the mountain.
Future development of a new base area
We never rode "Sunnyside" since the terrain is mostly served by Great Escape except for some manky snow below the village traverse.  This lift is going to be removed and replaced using a different shorter alignment according to the master plan.  More terrain and a new base area with lodge will be developed to the east of it.  Although we didn't see a problem when we were there on a Sunday, apparently parking is an issue on weekends and holidays and they want to have more parking and another way to get people out of the village area to the Outback Bowl.
Outback Bowl
We spent most of our time on the backside "Outback Bowl".  First off was the very popular "Stella" 6-pack.  We only took a couple runs there because there were LINES (gasp!).  We hadn't experienced any lines at any of the 8 other resorts we visited and weren't about to stand in line when we could be skiing.  This pod is popular because it's interesting with a nice collection of groomed blues and blacks that will appeal to most people.  With almost 1,600 vertical of consistent vertical the runs here are different because there isn't much navigation required on the way down.  Other areas of the mountain require a few navigation decisions along the way, often reading signs and trying to figure out where you are in fog.
The "Colburn Triple" and "Cedar Park Express" used to be one lift before they were upgraded and separated into 2 different pods in 2019.  That was a good move because Colburn is an advanced/expert pod and Cedar Park is a relatively easy one.   We enjoyed the terrain on those 2 chairs.
Little Blue
There is a gaping hole in the lift network that will be corrected in the master plan.  Some of the best terrain on the mountain is accessed via the "Idyle our T-bar" (clever).  The resort refers to it this area as "Little Blue".  Unfortunately it takes 3 lifts to lap excellent runs like "Little Blue Ridge Run" from the top of the T-bar so you could spend 45 minutes or more taking one run there.  There will be a new lift from near the bottom of Cedar Park to the top of the T-bar that will turn that into quick laps on what may be the best pod on the mountain.
Glades
Almost everywhere on the mountain there are glades with widely spaced skiable trees.  We did some of them off Cedar Park and could see how on a powder day most of the 2,900 acres would be skiable with lots of untracked powder in the trees.
On-mountain food
We only had one meal at the resort which was an excellent lunch at the Sky House sit-down restaurant.  Normally we would eat at the base area where food is cheaper, but it wasn't too pricey and the view from the top was excellent.  In general the buildings at the resort are modern and impressive.
The good
Great variety of terrain
Lots of gladed areas for tree skiing
No shortage of steep terrain and challenge
Good lift network
Nice on-mountain lodges
The bad
Although there is a lot of vertical, it's chopped up into smaller segments so long runs involve a lot of navigation
Crowded on weekends
Weather frequently includes fog and sometimes rain
The resort is somewhat isolated from the towns below so it lacks the draw of an iconic ski town and all that brings
The bottom line
We feel like Schweitzer is far above average on our list and is a solid 4-star resort. The ownership seems very enthusiastic about improving the resort year after year and it shows. It's the full package and definitely deserves a visit.