Sugarbush, Vermont
Sugarbush was one of my family's favorite resorts when I was growing up in Western New York in the 70's.  It was fairly new and featured terrain that wasn't typical of eastern resorts at that time. The wide-variety allowed all of us to enjoy ourselves even though we were of differing ability levels. That is even more true today with the excellent grooming and snowmaking that is present now.  For this review we visited during a cold January when the resort was fully open with great conditions.
Stats
Real Vertical 

?

2,552′, Rank: 43

Size

581 Acres, Rank: 89

Annual Snowfall 

?

250″ claimed / 267″ actual, Rank: 65

Ski Pods 

?

11, Rank: 14

Distinct Trails 

?

95, Rank: 38

Review Date

January 2019 (multiple from 1972)

Number of visits

3
Our Rating

★★★

Resort website

https://www.sugarbush.com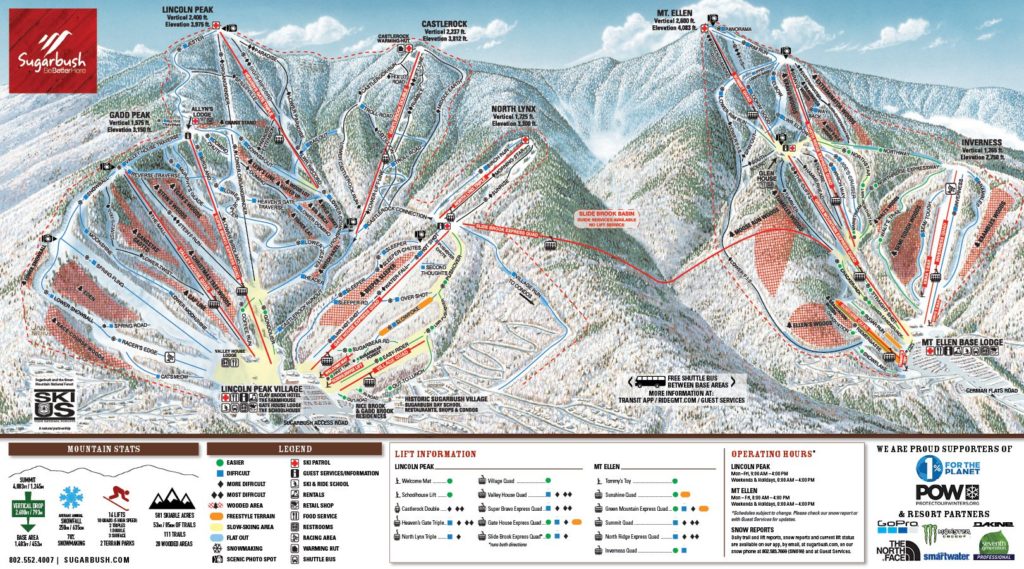 Sugarbush Review
Sugarbush was the 2nd resort on our swing through Vermont in January 2019.  We could only dedicate one day to it, which is a shame because there is far more there than can be skied in one day.
Mt. Lincoln
The original Sugarbush resort is on the Mt. Lincoln side.  This is the part I remember skiing as kid.  It's a delightful collection of really interesting runs on different peaks.
Castlerock
We had some memorable skiing on the upper parts of Mt. Lincoln and Castlerock.  Castlerock is a very low capacity long double chair.  The lift isn't that old, and was built the way it was to keep skier numbers low on the all-natural snow surface.  These are long twisty runs with lots of moguls and no grooming.  It reminded us of similar terrain at Mad River Glen.
Because of the low capacity, this was the only lift we skied that had a line on a cold weekday in January.  I can imagine it's going to be a really long line on powder days. It's great terrain though, and I wish we had had the time to ski all the runs there.
Heaven's Gate
After Castlerock we headed over to Heaven's Gate which is the other upper-mountain lift. We enjoyed the un-groomed with snowmaking-whale covered Ripcord run the most.  These runs are steep but maybe not deserving the double-black ratings.  There is a blue run "Jester" that most people head for.  This is the signature run at Sugarbush and it's a real treat, winding down through the sugar-covered trees that are the namesake of the resort.
Gadd Peak
Next we hit Gadd Peak which has some very wide (for the East) runs like Spring Fling.  These runs were shocking in the 70's for their generous cut.  Spring Fling is a perfect intermediate pitch with great views down to the small resort village.
Lift network needs improvement
There have been many changes over the years, but the one I think is a mistake is the replacement of the bottom-to-top gondola with 2 chairs.  Now it's 2 cold chair rides to get a top-to-bottom run, and the upper chair is a slow triple.  Other major resorts in the Northeast all have gondolas which are the place to be on cold days.  In general the lift layout on Mt. Lincoln needs a lot of improvement, but the skiing is great.
Lunch and the other side
We had a quick lunch in the crowded cafeteria at the Lincoln Peak Village.  We had to make it quick because we had to take off all our gear to drive over to the Mt. Ellen side. This would have been so much easier if the Slide Brook Express had been open.  We assume it was closed because of the cold temps, but who knows?  Our feeling is that if a resort advertises itself as being a multi-mountain connected resort, it's vital that the connecting lift be open at all times.
Mt. Ellen
Mt. Ellen used to be the Glen Ellen ski resort and was separate from Sugarbush in the 70's so I had no previous experience with it.  Wow, what a great area!  We really had fun skiing the 2,600 vertical over there on the wide perfectly groomed runs.  This is the highest peak we skied on this trip at 4,083 feet, and the views at the top are amazing.  The lift layout at Mt. Ellen is pretty much ideal with a fixed-grip shorter quad at the very top and high-speed quads below that serving the rest of the mountain.  Other than a couple of surface lifts used for racing and ski school, every chair on the Mt. Ellen side is a quad and it makes a real difference in the experience.
Our favorite at Mt Ellen
We skied every blue run and our favorite run was Rim Run to Elbow to Joe's Cruiser.  This gives you a really large amount of vertical on winding, interesting terrain.  They were still actively making snow which really freshened up the high-traffic runs on the lower mountain nicely.
The good
Most vertical drop in New England
Great variety of terrain in many ski pods
Lots of steep grooming
Views
Great snowmaking
The bad
Lift network needs improvement
Not all of the lifts run, making it difficult to get between Mt. Ellen and Mt. Lincoln
It's really 2 different ski resorts
The Bottom Line
This is a solid choice for great Vermont skiing. We preferred it over nearby Stowe due to the interesting terrain and greater vertical drop.  With a little improvement of the lift network on Mt. Lincoln it could compete for being the best resort in the Northeastern US.