Sunlight Mountain, Colorado
This was the last resort we had to ski to finish up the state of Colorado.  It took us years and many trips to ski all of the Colorado resorts that are on our list. So we took this as a victory lap of sorts.  We had already skied all of the Aspen resorts nearby, so this one was a considerable drive out of our way when we were going to Telluride from Ogden, Utah.  It was definitely worth doing.  It's a unique community ski mountain way above the normal local hill quality, with some decent challenge.  This review is based on one visit having average conditions.
Stats
Real Vertical 

?

1,720′, Rank: 89

Size

680 Acres, Rank: 84

Annual Snowfall 

?

250″ claimed / 232″ actual, Rank: 79

Ski Pods 

?

3, Rank: 91

Distinct Trails 

?

62, Rank: 72

Review Date

February 2020

Number of visits

1
Our Rating

★★

Resort website

https://sunlightmtn.com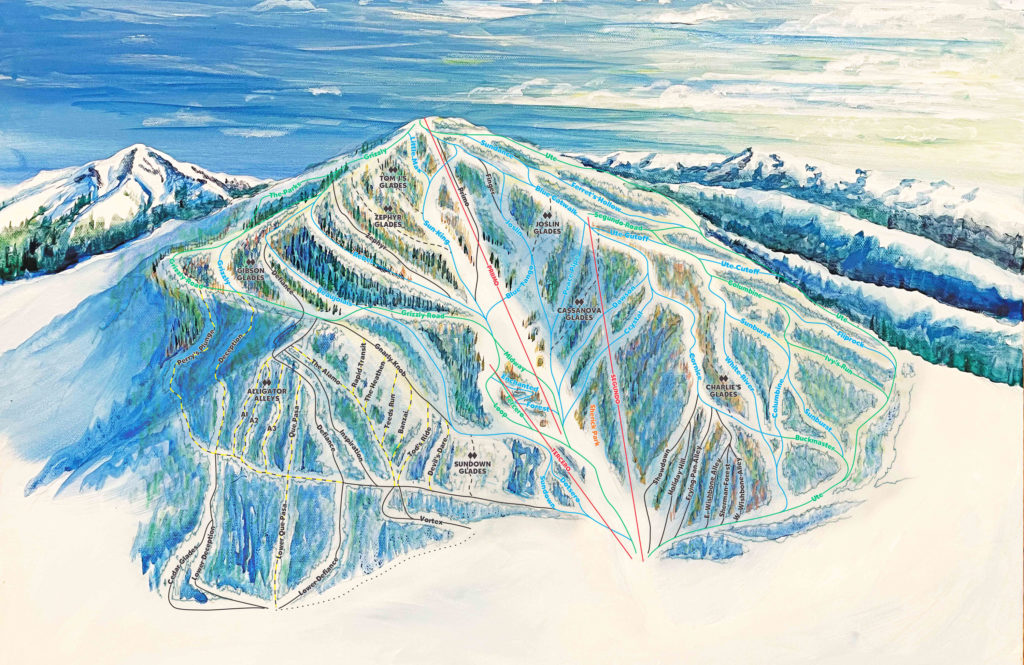 Sunlight Mountain Review
Sunlight caught our attention as a Colorado Gem similar to Powderhorn, but with a greater vertical drop at 2,020′. Even though it's small, the double-black diamond terrain is a rare thing for a resort this size and thus it earned its spot on the top 100 list.
Let's talk about those lifts first…
Center-pole double chairs are getting rare enough at ski resorts in North America. You will probably get told how to load when you glide up to one of the 2 upper-mountain chairs at Sunlight. "Come on out now! Look to the center! The chair will swing!". Good advice. Luckily this added instruction minimizes miss-loads and both chairs rarely stop.
These things are dinosaurs that should be retired.  We had bad experience with our kids when they at  Pajarito New Mexico and Bear Valley California.  I can grab slipping kids and get them seated when loading, but not when there is a center bar in the way.  It looks like they heard us because the Segundo double is being replaced with a triple relocated from Arapahoe Basin in 2023.
This being a family resort, the kids are going to have to learn how to load properly or stay at the bottom.  Of course financially it's not always possible to replace lifts. If I could wave a magic wand, though, I would remove both chairs and run a single quad from the base lodge up to the summit. You can reach all the terrain from the top, so that's the only lift that is really required anyway.
Front-side ski terrain
Sunlight has terrain that's a mini version of a resort like Snowmass on the front side, and it's pretty fun. It's almost all wide, easy blues from the top with a couple of greens and blacks. There are lots of gladed areas to make things interesting. The actual lift-served vertical combining 2 slow lift rides from the base is only 1720′, and the main lift is only 1450′. What happened to the other 300′ the resort is publishing? The only thing I could figure is that they are counting the hike-out terrain on the gladed East Ridge. That would be a heck of a hike for an extra 300′ of low-elevation snow. Usually we do better research than this, but I'll admit that they got us. Still, it's decent terrain for the bargain price, and they do a good job grooming and the north-facing aspect preserves the quality.
East Ridge
Whoa! This was a big surprise after some disappointment on the front side. This northeast-facing terrain is mildly reminiscent of steep skiing nirvana Taos, New Mexico. Narrow, steep runs were recently expertly gladed and this is absolutely legit terrain for advanced and expert skiers. 90% of the skiers are on the front-side (and mostly on the beginner slope), so you will most likely have this all to yourself. The runs are decently long and varied, so there is a full day of entertainment in there. The only fly in the ointment is snow. It was pretty boney (rocky) in there even though annual snowfall when we skied it was at 115% of average for the basin, and peak snow depth is typically right around the day we were there.
Expansion plans
There are plans to install a new lift serving the East Ridge expert terrain, which is an interesting concept for a resort like this to say the least. I saw exactly one other person skiing this terrain the day we were there. Maybe the new lift will attract more advanced skiers and it will get some use? As of 2022 the lift is still not built, but at least when it gets installed the lift-served vertical will match what they are publishing now.
The good
Uncrowded
Legit steep gladed terrain
Inexpensive
The nearby town of Glenwood Springs is a great resort town
The bad
2 main lifts are center-pole doubles
Not enough natural snowfall and limited snowmaking
Small
The Bottom Line
There is no question that Sunlight Mountain is a valuable resource for families in Glenwood Springs and the entire Roaring Fork Valley. We need more resorts like this that support the sport by offering a decent product at a decent price for families on a budget.  This is the only resort near Aspen where you can show up without a multi-resort pass and ski without feeling like you were just mugged at the ticket window. It's a no-brainer that for visitors who are staying in Glenwood Springs enjoying a multi-activity family vacation, a day at Sunlight will be one of top winter activity choices. We aren't the target customers for a resort like this and for us the negatives (lifts, snow, and size) make it so this will probably be our only ski day at Sunlight.